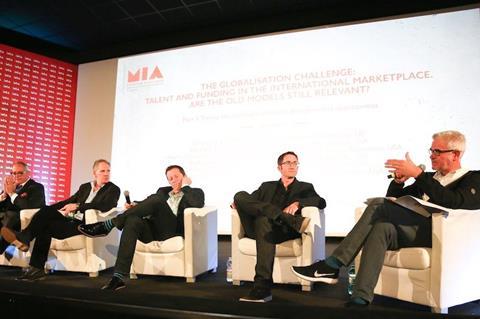 A panel of top TV execs predicted the future of the high-end drama sector and discussed its current challenges during a panel at Rome's MIA Market.
Philippe Maigret, president, ITV Studios America, told the audience that the high-end drama boom was only just beginning.
"When you live in a world where apple and Facebook will start commissioning [TV drama] then I don't think we're anywhere close to 'peak TV'," he said.
"American networks might decide to get out of the scripted game or reduce their investment in scripted TV," he also predicted.
Wayne Garvie, CCO International Production, Sony Pictures Television, told the audience that he predicts free-to-air channels face the biggest challenges from the SVOD players.
"How will they counter these new entrants spending a lot of money? It will be difficult," he said. "They need to find collaborations and relationships with other free-to-air players around the world."
Meghan lyvers, senior VP co-productions and development at CBS Studios International, agreed that organisations like hers need to adapt. "Some of the more traditional studios networks [like CBS] will become more nimble and radical in our approach, both business-wise and creatively, and be platform agnostic, which is good for the audience. I [also] think SVOD players will maybe take some more traditional approaches and build the kinds of businesses that we've had success in already."
Channel 4's head of international drama Simon Maxwell, whose most recent project was the ambitious co-production Philip K. Dick's Electric Dreams, predicted that talent could be more reticent about working for the big players.
"Anecdotally," he said, "there is a perception from talent working with SVOD platforms that they are now becoming part of a turnstile of shows. So to survive we have to curate shows so everyone feels special, as opposed to create a blizzard and making people go snow blind."
He added that Channel 4 could counter platforms like Netflix by "treating every show in a specialised way, so the talent coming to work with us feel like they're being put in a pedestal."
Current challenges
The panel also outlined the challenges facing the drama sector today, with a scarcity of talent the key issue.
Sony's Garvie told the audience: "With Apple, Facebook [entering the market], it's a brilliant time to be doing content. But the problem is finding good writers, because there aren't enough of them, and finding good producers, because there aren't enough of them either."
Howard Davine, EVP business operations, ABC Studios agreed that the volume of high-end drama being produced means that finding good talent is harder than ever.
"We're becoming much more global [because] it's another way to attract talent from outside the US," he said. "The proliferation of production means it's difficult to find great writers, actors and directors within the confines of the US.
"The US doesn't have a monopoly on great ideas, and as the sophistication of audiences grows, as global TV grows, you'll see better quality writing around the world."
C4's Maxwell said his channel is having to work harder than ever to cut through in a landscape that has reached "saturation point".
"There's so many new buyers, it's a boom time, a gold rush," he said. "[There's] in excess of 60 scripted networks in US alone. You've got more opportunity if you have something Anglo-American – everything we've done so far at C4 in terms of high-end drama is westward facing and that's a regret of mine. Item one on my agenda is to figure out a way to be more eastward facing, to co-produce with France, Germany, Australia New Zealand."
However, Maigret said the large volume of shows in the market place was not necessarily a problem for consumers. "There is no evidence that this monstrous volume of production, this level of choice, is turning the viewer away from TV. Because that is the big risk, does more choice kill choice?"