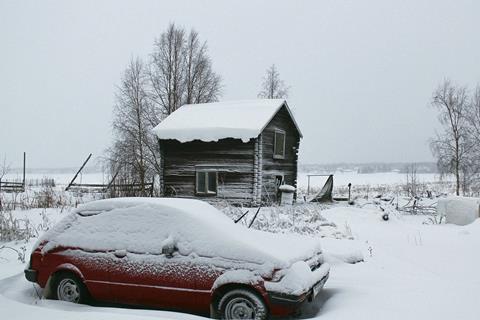 Laura Samani's Italian-Slovakian project Small Body and Mikko Myllylahti's Finnish drama The Woodcutter Story received the TorinoFilmLab's two prestigious €40,000 production awards on the final night of TFL's Meeting Event which marked the culmination of the 11th edition of the TorinoFilmLab.
The event presented all of the projects developed at TFL through the year and took place from November 23-24.
Four co-production awards of €50,000 each were also presented to Mounia Akl's Costa Brava, Lebanon (Lebanon-France-Sweden-Norway), Felipe Gálvez's The Settlers (Chile-Argentina-Denmark), Jianjie Lin's Blood And Water (China) and Nicole Midori Woodford's You Are There (Singapore-Japan).
The international jury was presided over by Cameron Bailey, co-head of the Toronto International Film Festival.
TFL's Audience Design Fund, which supports completed feature projects using innovative distribution strategies, presented three awards. They went to Yeo Siew Hua'a A Land Imagined (Singapore-France-Netherlands), Rubaiyat Hossain's Made In Bangladesh (France-Bangladesh-Denmark-Portugal) and Alejandro Fernández Almendras's The Play (Chile-France-Czech Republic-South Korea). Each is worth €40,000.
Additionally, Carla Simón's Alcarràs won the €8,000 CNC award and will now be developed further through the TFL's ScriptLab programme. Katarzyna Gondek's The Root Crown received a special mention.
The Hamilton Behind The Camera award, presented by Swiss watch brand Hamilton to a rising talent, was won by Wregas Bhanuteja. The writer received €5.000 (and a wathc) to support the development of her project
The Amsterdam Post Lab award for a FeatureLab project was presented to Myllylahti's The Woodcutter Story, which is produced by Emilia Haukka of Helsinki-based Aamu Film Company. The €7,500 prize allows the producer to participate in the Amsterdam Post Lab post- production workshop and post-production services at the Netherlands' Filmmore facilities. A further grant of €7,500 grant was awarded for services provided by the Warnier-Posta sound studio in Amsterdam.
ScriptLab project Thanatos by E del Mundo won the Digital Production Challenge II award, covering participation in the DPC II workshop.
Two subtitling prizes sponsored by London-based subtitling company Sub-ti, offering German and English subtitles and deaf and impaired audio description to a FeatureLab project went to Konstantina Kotzamani's Titanic Ocean and Juanjo Giménez's Three.
Coming Soon line-up
Additionally, TorinoFilmLab revealed full details of 10 projects that have been developed in its programmes at its Coming Soon work- in- progress showcase to international sales agents, festival representatives and distributors. The presentations took place the night before the TFL awards ceremony on November 23.
The 10 projects are:
And They May Still Be Alive Today (Romania-Greece)
Dir: Tudor Cristian Jurgiu
Production company: Libra Film.
A magical realistic tale about a Romanian couple in search of perfect love.
No sales agent attached.
Berlin Alexanderplatz (Germany-Netherlands)
Dir: Burhan Qurbani
Production company: Sommerhaus Filmproduktion
Inspired by the renowned 1929 novel by Alfred Döblin, Berlin Alexanderplatz is about an African refugee in search of a better life in Germany.
Intl sales: Beta Film
Go Youth! (Mexico-France)
Dir: Carlos Armella
Production company: B Positivo Producciones
A comedy of four intertwining stories about four teenagers set in modern day Mexico City.
No sales agent attached.
Made In Bangladesh (France-Blangladesh-Denmark-Portugal)
Dir: Rubaiyat Hossain
Production company: Les Films de l'Aprés-Midi
Winner of the Audience Design Fund award, this film tells the story of the struggle of a woman working in a garment factory in Dhaka in search of better working conditions.
Intl sales: Pyramide International
Pari (Greece-France-Bulgaria-Netherlands)
Dir: Siamak Etemadi
Production company: Heretic
A drama about an Iranian woman and her older husband who arrive in Greece to meet their son. When he doesn't show up at the airport to pick up them, they discover he is missing.
Intl sales: Heretic Outreach
Psychosia (Denmark-Finland)
Dir: Marie Grahtø
Production company: Beofilm
Drawing on her own experiences in mental health institutions, Grahto's film is about the relationship between two women going through similar struggles. Trine Dyrholm stars.
No sales agent attached.
The Orphanage (Denmark-German-France-Luxembourg-Afghanistan)
Dir: Shahrbanoo Sadat
Set in late 1980's Kabul, The Orphanage is about a 15-year old boy who lives in the streets and sells cinema tickets to Bollywood movies on the black market.
Intl sales: Luxbox
The Play (Chile-France-Czech Republic-South Korea)
Dir: Alejandro Fernandez Almendras
Production company: Jirafa
The second winner of the TFL Audience Design Fund award, The Play follows a director who has moved with his family to a small theatre to direct an overly ambitious adaptation of which he has always dreamed.
No sales agent attached.
Wildland (Denmark)
Dir: Jeanette Nordahl
Production company: Snowglobe
A 17-year old girl is forced to move in with her aunt and her three adult sons following the death of her parents.
Intl sales: BAC Films
Yalda (France-Germany-Switzerland-Luxembourg-Lebanon-Iran)
Dir: Massoud Bahkshi
Production company: JBA production
A woman who accidentally killed her husband is sentenced to death but under Iranian law only the victim's family can forgive her. The pardon will be played out on the country's most popular reality show.
Intl sales: Pyramide International