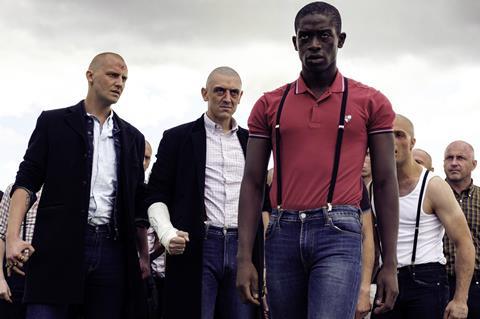 Adewale Akinnuoye-Agbaje's 1980's set skinhead drama Farming and Rosanne Pel's Poland-set relationship drama Light As Feathers are among a Toronto International Film Festival (TIFF) Discovery selection that comprises 48% of films directed by women.
TIFF chiefs have also added Neil Jordan's Greta and Brady Corbet's Vox Lux to Special Presentations, and announced the International Rising Stars, details of the fifth annual Festival Street, and Speaker Series participants. In addition, Mira Nair has joined the Platform jury.
This year's festival will present 343 films in total (255 features, 88 shorts), compared to 340 in TIFF 2017 (256 features, 84 shorts.) Of the selection 232 features are world, international or North American premieres. The TIFF number-crunchers also said that outgoing TIFF director and CEO Piers Handling has watched 31,300 hours of film during his 36 years at TIFF.
The Discovery line-up includes selections from 37 countries, and 29 films receive their world premieres. Discovery entries include Sameh Zoabi's Israeli border crossing dark comedy Tel Aviv On Fire, The Chambermaid by Mexico's Lila Avilés, Wanuri Kahiu's female LGBTQ+ romance Rafiki, and opening and closing titles The Crossing (China) by Bai Xue, and Bassam Jarbawi's Palestinian Territories selection Screwdriver.
"We are thrilled to present a lineup so rich in distinct new voices committed to great storytelling," said Kerri Craddock, director of festival programming. "Audiences will embark on journeys with the strong characters in these films that will be sure to engage them from cultural, political, and formal perspectives. With 48% of the titles directed by women, the Festival's Discovery section hopefully signals that change is on the horizon in the international film industry."
The 43rd Toronto International Film Festival runs from September 6-16.
TIFF DISCOVERY LINE-UP
aKasha (Sudan-South Africa-Qatar-Germany)
Dir. hajooj kuka
North American premiere
ANIARA (Sweden)
Dirs. Pella Kågerman, Hugo Lilja
World Premiere
Blind Spot (Blindsone, Norway)
Dir. Tuva Novotny
International premiere
The Chambermaid (La Camarista, Mexico)
Dir. Lila Avilés
World premiere
Complicity (Kazenoki Wa Koto No Youni, Japan-China)
Dir. Kei Chikaura
World premiere
Consequences (Posledice, Slovenia-Austria)
Dir. Darko Štante
World premiere
* Discovery Opening Film *
The Crossing (Guo Chun Tian, China)
Dir. Bai Xue
World premiere
The Day I Lost My Shadow (Yom Adaatou Zouli, Syria-France-Qatar-Lebanon)
Dir. Soudade Kaadan
North American premiere
The Dig (UK)
Dirs. Andy Tohill, Ryan Tohill
North American premiere
An Elephant Sitting Still (Da Xiang Xi Di Er Zuo, China)
Dir. Hu Bo
Canadian premiere
Emu Runner (Australia)
Dir. Imogen Thomas
World premiere
ENDZEIT – EVER AFTER (ENDZEIT, Germany)
Dir. Carolina Hellsgård
World premiere
The Extraordinary Journey Of Celeste García (El Viaje Extraordinario De Celeste García, Cuba-Germany)
Dir. Arturo Infante
World premiere
Farming (UK, pictured)
Dir. Adewale Akinnuoye-Agbaje
World premiere
Fig Tree (Israel-Germany-France-Ethiopia)
Dir. Aäläm-Wärqe Davidian
World premiere
Float Like A Butterfly (Ireland)
Dir. Carmel Winters
World premiere
Girl (Belgium)
Dir. Lukas Dhont
Canadian premiere
Gwen (UK)
Dir. William McGregor
World premiere
Helmet Heads (Cascos Indomables, Costa Rica-Chile)
Dir. Neto Villalobos
World premiere
Her (Greece-France-Serbia)
Dir. Job Nikos Labôt
World premiere
Icebox (USA)
Dir. Daniel Sawka
World premiere
Jirga (Australia)
Dir. Benjamin Gilmour
North American premiere
Light As Feathers (Netherlands)
Dir. Rosanne Pel
World premiere
Lionheart (Nigeria)
Dir. Genevieve Nnaji
World premiere
The Load (Teret, Serbia-France-Croatia-Iran-Qatar)
Dir. Ognjen Glavonic
North American premiere
Manta Ray (Kraben Rahu, Thailand-France-China)
Dir. Phuttiphong Aroonpheng
North American premiere
The Mercy Of The Jungle (Belgium-France-Germany
Dir. Joël Karekezi
North American premiere
Orange Days (Rooz-haye Narenji, Iran)
Dir. Arash Lahooti
World premiere
Our Body (A-wol Ba-di, South Korea)
Dir. Han Ka-ram
World premiere
Parade (Aglumi, Georgia-Russia)
Dir. Nino Zhvania
World premiere
Phoenix (Føniks, Norway-Sweden)
Dir. Camilla Strøm Henriksen
World premiere
Rafiki (Kenya-South Africa-France-Lebanon/Norway-Netherlands-Germany-USA)
Dir. Wanuri Kahiu
North American premiere
Saf (Turkey-Germany-Romania)
Dir. Ali Vatansever
World premiere
* Discovery Closing Film *
Screwdriver (Mafak, Palestinian Territories-USA-Qatar)
Dir. Bassam Jarbawi
North American premiere
Summer Survivors (Lithuania)
Dir. Marija Kavtaradze
World premiere
Tel Aviv On Fire (Luxembourg-France-Israel-Belgium)
Dir. Sameh Zoabi
North American premiere
The Third Wife (Vietnam)
Dir. Ash Mayfair
World premiere
Tito And The Birds (Tito E Os Pássaros, Brazil)
Dirs. Gustavo Steinberg, Gabriel Bitar, André Catoto
North American premiere
Too Late To Die Young (Tarde Para Morir Joven, Chile-Brazil-Argentina-Netherlands-Qatar)
Dir. Dominga Sotomayor
North American premiere
Touch Me Not (Romania-Germany-Czech Republic-Bulgaria-France)
Dir. Adina Pintilie
North American premiere
Twin Flower (Fiore Gemello, Italy)
Dir. Laura Luchetti
World premiere
Woman At War (Kona Fer Í Stríð, Iceland-France-Ukraine)
Dir. Benedikt Erlingsson
North American premiere
Previously announced Canadian titles in the Discovery programme include Akash Sherman's Clara, Gwaai Edenshaw and Helen Haig-Brown's Edge Of The Knife, Jasmin Mozaffari's Firecrackers, and Zach Lipovsky and Adam Stein's Freaks.
TIFF DOCS
Reason (Vivek, India)
Dir. Anand Patwardhan
World premiere
SPECIAL PRESENTATIONS
Festival brass announced two additions to the Special Presentations programme, comprising the world premiere of Neil Jordan's Greta and the North American premiere of Brady Corbet's Vox Lux, which bring the number of selections in the programme to 24.
"These are two films that explore nuanced narratives with exceptional leading women," said Craddock. "Greta and Vox Lux both offer strong directorial visions, rich performances, and engaging stories. They complete the package of the Special Presentations programme."
Greta tells the story of a young New York woman named Frances (Chloë Grace Moretz) who strikes up an unlikely friendship with an enigmatic widow named Greta (Isabelle Huppert). The older woman's motives are gradually revealed to be sinister and the film quickly descends into an exploration of loneliness, obsession, and manipulation. Greta, co-written by Jordan and Ray Wright, also stars Colm Feore, Maika Monroe, and Stephen Rea.
In musical drama Vox Lux, Brady Corbet's second feature as writer-director tracks its heroine's path from childhood tragedy to a life of fame and fortune. Starring Natalie Portman and Jude Law, the film begins with teenage sisters Celeste (Raffey Cassidy) and Eleanor (Stacy Martin) who survive a violent incident that changes their lives. The film is both a riveting character study and a perceptive survey of the cultural shifts that have shaped a generation.
INTERNATIONAL RISING STARS
Stéphane Bak (France), Ahmed Malek (Egypt), Josh Wiggins (USA), and Eleanor Worthington-Cox (UK) are the TIFF 2018 Rising Stars. They are pictured clockwise, from top left: Bak, Malek, Worthington-Cox, and Wiggins.
The join the four previously announced Canadian Rising Stars – Devery Jacobs, Lamar Johnson, Michaela Kurimsky, and Jess Salgueiro – and round out the popular talent programme that showcases and helps develop the skills of promising actors throughout the 2018 festival.
"This year, Rising Stars returns with an extremely gifted group of up-and-coming actors," said TIFF artistic director Cameron Bailey. "From a young stand-up comedian to an Olivier Award–winning musical performer, this diverse group is multi-talented and eager to make their mark. We're so glad TIFF can provide this platform to help elevate them to the world stage."
The TIFF Rising stars will participate in a curated festival experience designed to support their professional development, consisting of valuable networking opportunities and industry events, as well as red-carpet and media engagements. Performances from all four international Rising Stars are featured in this year's TIFF Official Selection.
Starring alongside Maxine Peake, Worthington-Cox plays the title role in William McGregor's Gwen, while Bak stars in Joël Karekezi's survival odyssey The Mercy Of The Jungle.
Last year, Malek played a leading role in the Closing Night Special Presentation Sheikh Jackson and this year he is featured in Ahmad Abdalla's Contemporary World Cinema title EXT. Night. Wiggins co-stars alongside Kyle MacLachlan in Keith Behrman's Canadian drama Giant Little Ones.
International Rising Stars alumni Jessie Buckley and Mamoudou Athie return to the festival this year with roles in Wild Rose and The Front Runner, respectively.
SPEAKER SERIES
Returning for its seventh year the TIFF Speaker Series, in partnership with the University of Toronto's Munk School of Global Affairs and Public Policy, features Randall Hansen, Janice Stein, Robert Austin, Joseph Wong, and Teresa Kramarz.
Speaker Series line-up:
Look At Me
Randall Hansen, interim director at the Munk School of Global Affairs and Public Policy, will join Tunisian actor and director Nejib Belkadhi in a Q&A following the screening of his film Look At Me.
Donbass
Robert Austin, associate professor at the Munk's School Centre for European, Russian and Eurasian Studies, will join Ukrainian director Sergei Loznitsa to examine his film Donbass.
The Public
Joseph Wong, Ralph and Roz Halbert professor of innovation at the Munk School of Global Affairs and Public Policy, will take the stage with Emilio Estevez for a Q&A following the screening of The Public.
Birds Of Passage (Pájaros De Verano)
Teresa Kramarz, director of the Munk One program, will discuss filmmaking duo Cristina Gallego and Ciro Guerra's latest film, Birds Of Passage.
"I Do Not Care If We Go Down In History As Barbarians" (Îmi Este Indiferent Dacă În Istorie Vom Intra Ca Barbari)
Radu Jude's feature chronicles a young theatre director's efforts to stage an accurate re-enactment of the Odessa Massacre – in which Romanian soldiers slaughtered tens of thousands of Ukrainian Jews – despite the municipal government's attempts to censor her.
Speaker to be confirmed.
FESTIVAL STREET
Back for its fifth instalment, Festival Street runs over opening weekend from September 6-9, when King Street West between Peter Street and University Avenue will transform into the TIFF street party.
"The excitement of Festival is something we want to share with the entire city," said Bailey. "Festival Street is where everyone can enjoy and experience the excitement of the Festival and its celebration of film. Free screenings, great musical performances, and the impactful Share Her Journey Rally are just some of the highlights you can expect – and we invite everyone to join us."
Events include the Share Her Journey Rally on the morning of Saturday, September 8, starting on John Street at 10am at the Slaight Stage. With the support of partners ReFrame, TIME'S UP, and #AfterMeToo, the rally will hear from thought leaders and guests including Dr. Stacy L. Smith, the founder and director of the USC Annenberg Inclusion Initiative who coined the term 'inclusion rider'; actor Amanda Brugel; Sundance Institute executive director Keri Putnam; actor and #AfterMeToo co-founder Mia Kirshner; filmmaker Amma Asante; Welle Entertainment president Cathy Schulman; filmmaker and actor Nandita Das; and TIFF Next Wave Committee member Zavia Forrest. The morning will begin and wrap with performances by Molly Johnson and Shakura S'Aida.
TIFF and TTC are partnering to hand out tickets to free screenings, culminating in a special TTC Free Screening at Roy Thomson Hall on September 9 open to everyone that brings their Metropass of PRESTO card. The schedule includes a 30th anniversary screening of Big starring Tom Hanks.
This year for the first time there will be the Refinery29 Festival Rooftop, an interactive space that offers new festival experiences and an after-party on the top floor of TIFF Bell Lightbox.
MIRA NAIR JOINS PLATFORM JURY
Director Mina Nair has joined the Platform jury alongside previously announced jurors Béla Tarr and Lee Chang-dong and will decide who gets the $25,000 CAD The Toronto Platform Prize.
"Mira Nair's remarkable body of work makes her one of the most interesting and tenacious directors working today," said Handling. "From her important documentary work to her most recent award-winning titles, Mira has always shown a vision and passion that make her a perfect fit for this year's Platform Jury. We are honoured that this September we will have the opportunity to host her and fellow jurors Béla Tarr and Lee Chang-dong."
FACT SHEET
The festival will present 343 films in total: 255 features, and 88 shorts (compared to 340 at TIFF 2017 comprising 256 features and 84 shorts.
Of the selection 232 features are world, international or North American premieres: 138, 22 and 72 respectively (238 total: 147 world, 19 international and 72 North American premieres.)
There were 7,926 total submissions: 6,846 international and 1,080 Canadian (7,299 total: 6,166 international and 1,133 Canadian.)
There are 83 countries represented (74), and 34% of the films are by women (33%), with 136 female leads, plus one elephant queen.
TIFF director and CEO Handling has spent 31,300 hours watching films during his 36 years at the festival.
This year presents 30,055 minutes of film, equal to more than 20 days of viewing. The longest film is The Flower (La Flor) in Wavelengths clocking in at 14 hours. The shortest runs for 43 Seconds and is The Invisible Cinema 3 in Wavelengths.
There are expected to be a total of 3,000 festival volunteers.