The producer and Canadian film industry pioneer died of a heart attack on Sunday in hospital in Toronto. He was 77.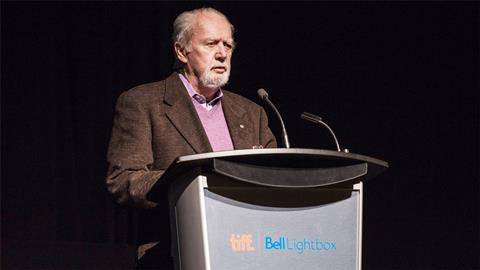 Marshall was born in 1939 in Glasgow, Scotland, and emigrated to Canada in 1955. He co-founded the festival in 1976 with Henk Van der Kolk and Dusty Cohl.
Marshall was a former president of the Canadian Association Of Motion Picture Producers and notched up numerous documentary and narrative feature credits.
He also produced for stage, including the Toronto production of Hair. He received the Order Of Canada for his contribution to the arts.
Outside of the arts, he served as campaign manager and chief of staff for three Toronto mayors and was a journalist, novellist, and speechwriter for royalty.
In a statement his family said, "Now, as the house lights dim, friends and family will remember and honour Bill as a first rate raconteur, famous for his honesty, keen mind and wry humour."
Toronto Mayor John Tory described Marshall as "an artist, a dedicated Torontonian by choice, a TIFF founder, and most of all a friend."
Toronto International Film Festival director and CEO Piers Handling said, "We are deeply saddened by the passing of our friend and TIFF chair emeritus Bill Marshall.

"Founder of the Festival of Festivals in 1976 (along with Co-Founders Henk Van der Kolk and Dusty Cohl), Bill was also the organisation's director in its first three years. He was a pioneer in the Canadian film industry and his vision of creating a public festival that would bring the world to Toronto through the transformative power of cinema stands today as one of his most significant legacies.
"Without his tenacity and dedication, the Toronto International Film Festival would not be among the most influential public cultural festivals today. We were so fortunate to have Bill serve as one of our greatest champions for 41 years."
Marshall is survived by wife Sari Ruda, children Lee, Stephen and Shelagh, and six grandchildren.