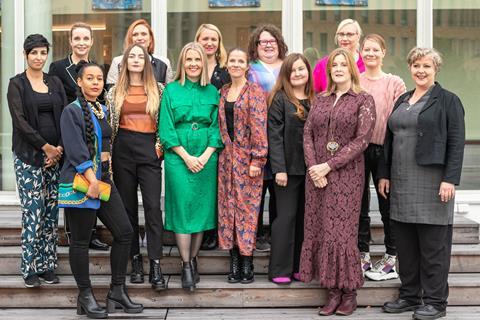 Paris-based sales company Totem Films has acquired world rights to hard-hitting Finnish anthology series Force Of Habit exploring how women are discriminated against because of their gender in public and private life.
The multi-faceted, all-female production - spanning 11 episodes and a single feature film - is produced by Elli Toivoniemi and Sanna Kultanen at Finnish company Tuffi Films.
The dynamic Helsinki-based company is behind a string of festival hits including Finland's 2020 Oscar submission Stupid Young Heart and the Oscar-nominated short Do I Have To Take Care Of Everything?, both by Selma Vihunen, who is also part of the Tuffi fold.
Siri Hjorton Wagner and Farima Karim at Swedish company [sic] film are also on board as co-producers.
The production won the work in progress award at the annual Finnish Film Affair event in 2018 as the project most likely to attract international attention.
Consent, rape, gaze, power dynamics
Tuffi has gathered 15 Finnish directors and screenwriters for the production.
The resulting 11 episodes, exploring various aspects of gender stereotyping, are presented under the four category banners of consent, rape, gaze and power dynamics. They explore a variety of topics from sexual harassment to racism and misogyny.
"The diversity of these portraits in the post MeToo era conquered us. They shocked us and also made us laugh and reflect while digging into this rich and complex debate with energy and intelligence," said Totem Films' co-founding partners Agathe Valentin, Bérenice Vincent and Laure Parleani.
The production also chimes with one of Totem's key founding remits to work with productions exploring gender norms and identity.
Other recent films on Totem's slate include Swedish filmmaker Levan Akin's Georgia-set drama And Then We Danced, about a young dancer who develops feelings for a male rival, which premiered in Cannes Directors' Fortnight and is Sweden's Oscar entry; Costa Rican Cannes Critics Week 2019 selection Land of Ashes; and Juho Kuosmanen upcoming feature Compartment No 6.
"We have felt from the very beginning that Totem's fearless way of breaking the boundaries of the conventional approach to market sales is in line with Tuffi Films' vision," said Tuffi's Toivoniemi.
Feature launch in early 2020
Six of the episodes of the anthology are being woven into a single feature film targeted for an early 2020 launch.
The project will also include a local and international awareness campaign around issues of gender stereotyping.
Kicking this off, French-US academic Iris Brey, who is specialised in questions of feminism and gender, has written an introductory essay for the press-kit, which also features a comprehensive filmography and reading list of works exploring gender discrimination.