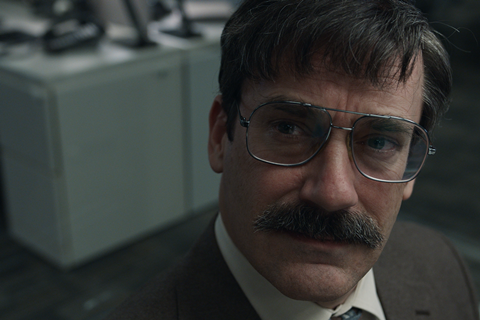 Tribeca has unveiled its 2022 line-up, with world premieres including Joachim Back's Corner Office starring Jon Hamm and Danny Pudi, and Ray Romano's directorial debut, Somewhere In Queens. Josh Alexander's Loudmouth is set to close the festival.
The 21st edition is to take place in New York from June 8-19, with 88 world premieres across its 10 categories, showcasing 109 feature films and 16 online premieres from 150 filmmakers across 40 countries. The Tribeca At Home platform will allow US audiences to watch a selection of films online from June 9 to 26.
Office satire Corner Office follows a straight-laced employee whose attempts to avoid his colleagues drive them up the wall. It world premieres in the Spotlight Narrative competition, alongside Everybody Loves Raymond actor Ray Romano's directorial debut, Somewhere In Queens, which follows an Italian-American dad from Queens who becomes increasingly dedicated to securing his son's high school basketball success. Romano also stars, alongside Laurie Metcalf, Tony Lo Bianco, Sebastian Maniscalco and Jennifer Esposito.
Additional titles receiving world premieres in this strand include Paul Dektor's American Dreamer starring Peter Dinklage, Shirley MacLaine, Matt Dillon, and Danny Glover; Frank Berry's Aisha, about a Nigerian woman seeking asylum in Ireland, with backing from BBC Film and Screen Ireland, starring Letitia Wright and Josh O'Connor; Katie Holmes' directorial debut Alone Together, in which she also stars alongside Jim Sturgess and Zosia Mamet; and David Frankel's Jerry & Marge Go Large, with Bryan Cranston and Annette Bening.
Closing night film Loudmouth is a documentary following preacher and activist Reverend Al Sharpton, who has been at the centre of the US conversation around race since first hitting headlines in the 1980s, and focuses on his activism in the aftermath of the murder of George Floyd.
As previously announced, the festival will open with the premiere of Halftime, a Netflix documentary by director and Tribeca alum Amanda Micheli that follows pop star and actor Jennifer Lopez as she navigates the second half of her career.
World premieres in the US Narrative Competition include Ben Snyder's comedy drama Allswell, written by and starring Elizabeth Rodriguez; Sarah Adina Smith's comedy The Drop; and psychological drama The Integrity of Joseph Chambers, written and directed by Robert Machoian and starring Jeffrey Dean Morgan.
Among the International Narrative selections are Del Kathryn Barton's Blaze (Australia) about a young girl attempting to deal with a trauma through an imaginary dragon; Viesturs Kairiss' coming-of-age story January (Latvia, Lithuania, Poland); and comedy Moshe Rosenthal's suburbia-set comedy Karaoke (Israel).
The Documentary Competition features the world premiere of Pakistani-American filmmaker Nausheen Dadabhoy's portrait of life over the past 20 years as an American Muslim, An Act of Worship; a first-person account of the devastation of Hurricane Katrina, Katrina Babies, as told by young people who were between the ages of 3 and 19 when it struck; and The Cave Of Adullam, produced by Laurence Fishburne and directed by Laura Checkoway, which follows martial arts sensei Jason Wright as he guides his often-troubled young Detroit students.
The Spotlight Documentary section features world premieres of Johanna Hamilton's comprehensive guide to civil rights activist Rosa Parks in The Rebellious Life Of Mrs. Rosa Parks; Irene Taylor's exploration of the dark history of sex abuse behind the Boy Scouts Of America, Leave No Trace; and Alex Winter's The YouTube Effect, following the platform's success and potential destruction thanks to its all-powerful algorithm.