Director and cast to take part in panel discussion following screening.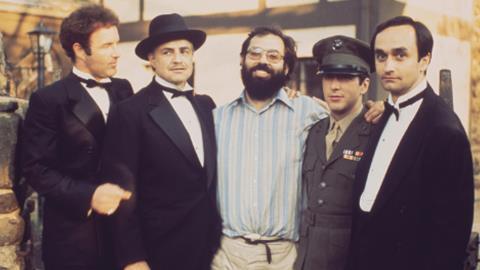 Top brass at the 16th edition of the Tribeca Film Festival announced on Wednesday the Closing Night, Galas and Special Screenings, as well as the titles premiering under the Tribeca/ESPN Sports Film Festival banner.
The festival, which runs from April 19-30, will close on April 29 with a back-to-back screening of The Godfather and The Godfather Part II to celebrate the film's 45th anniversary, followed by a panel discussion with director Francis Ford Coppola and actors Al Pacino, James Caan, Robert Duvall, Diane Keaton, Talia Shire and Robert De Niro.
This year's Galas section includes the world premiere of James Ponsoldt's thriller The Circle starring Tom Hanks and Emma Watson.
World premiere Galas selections include Daniel Kaufman's portrait of Sean 'Diddy' Combs in Can't Stop, Won't Stop: The Bad Boy Story, a documentary celebrating the first 20 years of Bad Boy Entertainment record label.
Mike And The Mad Dog receives its world premiere and kicks off The Tribeca/ESPN Sports Film Festival.
Among the Special Screenings world premieres are Joe Berlinger's Intent To Destroy; Tabbert Fiiller's The Public Image Is Rotten with a scheduled post-screening Q&A with the director and John Lydon AKA former Sex Pistols and Public Image Ltd frontman Johnny Rotten; and Ellen Goldfarb's Dare To Be Different with a post-screening performance by 1980s British New Wave band A Flock Of Seagulls and The Alarm.
As previously announced, the festival will open with the world premiere of the documentary Clive Davis: The Soundtrack Of Our Lives at Radio City Music Hall, followed by a special concert featuring performances by Aretha Franklin, Jennifer Hudson, Earth, Wind & Fire, among others.
Tribeca will also screen a series of retrospectives, including the 25th anniversary of Aladdin with a special sing-along, the 15th anniversary of Bowling For Columbine followed by a conversation with Michael Moore, and the 25th anniversary of Quentin Tarantino's Reservoir Dogs. Tarantino and members of the cast will participate in a conversation following the film.
"From Clive Davis, to Sean Combs, to Francis Ford Coppola's The Godfather and The Godfather Part II, the 2017 Tribeca Film Festival is brimming with exciting and can't-miss special screenings and events," Tribeca's Paula Weinstein said.
"With the line-up of film, music, and sports legends who are coming together to entertain and inform, this could be the most memorable year of Tribeca yet."
Click here for the complete line-up.