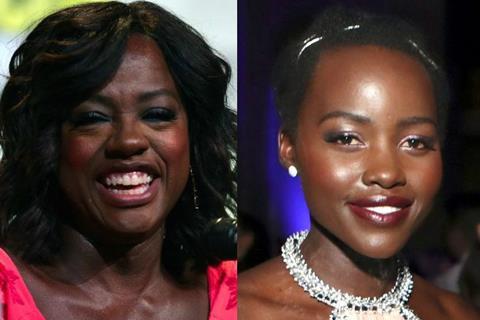 TriStar Pictures has acquired worldwide rights to The Woman King, a timely historical tale of female empowerment and African survival to star Viola Davis and Lupita Nyong'o.
Based on an original story by Maria Bello, The Woman King is inspired by true events that took place in the Kingdom of Dahomey, a powerful African state in the 18th and 19th centuries.
Davis will portray Nanisca, general of an all-female military unit known as the Amazons who fought the French and neighboring tribes in defence of a way of life. Black Panther star Nyong'o will play the general's daughter, Nawi.
Cathy Schulman's Welle Entertainment, Davis and Julius Tennon of JuVee Productions, and Bello of Jack Blue Productions are on board as producers.
"The Woman King is the powerful true story of an extraordinary mother-daughter relationship," TriStar president Hannah Minghella said. "And there's no-one more extraordinary than Viola Davis and Lupita Nyong'o to bring them to life."
"The Woman King has the potential to be a game changer for women of color everywhere," Tennon said. "Viola and our team at JuVee are beyond excited to partner with Sony/TriStar to bring these fierce women to the big screen."
Schulman added: "Black Panther just showed us how the power of imagination and lore could reveal a world without gender and racial stereotypes. The Woman King will tell one of history's greatest forgotten stories from the real world in which we live, where an army of African warrior women staved off slavery, colonialism and inter-tribal warfare to unify a nation."
Minghella and Nicole Brown will oversee the project for TriStar Pictures.