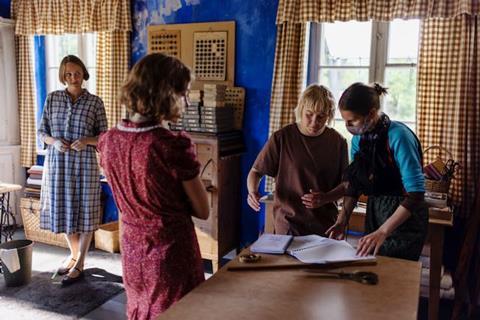 Danish director Malou Reymann, who previously directed festival hit A Perfectly Normal Family, has started the shoot for her new historical drama Ustyrlig (the literal English translation is 'Uncontrollable' although the film's international title is not yet set).
TrustNordisk has boarded international sales. As with A Perfectly Normal Family, Matilda Appelin produces for Nordisk (which plans the Danish release in March 2023). The Danish Film Institute is supporting the production.
The story is about the Sprogø Women's Institution in the 1930s, when "morally feeble" girls and women were sent to the island to become more compliant. The story focuses on Maren, an unruly 17-year-old who refuses to conform, and the spark she ignites in Sørine, who had been dutiful at the institution for six years.
Reymann wrote the script with Sara Isabella Jønsson.
Reymann said: "It has been important for me to base the story on what actually happened at the institution, and we are undeniably dealing with a dark chapter of Danish history. But in the heart of the story are the young women with all their energy, ferocity and lust for life, where they light up the film."
Emilie Koppel (You Disappear) and Jessica Dinnage (The Rain) lead the cast, with Dinnage reuniting with the director after A Perfectly Normal Family. The cast also features Lene Maria Christensen, Anders Heinrichsen and Danica Curcic.
Key crew include Sverre Sørdal as DoP, Ida Bregninge as editor, production designer Rie Lykke, makeup designer Sara Sofia Kasper and costume designer Mads Nikolaj Elley Jacobsen.
Nearly 500 girls and women were admitted to Sprogø from 1923 to 1961, and dozens were sterilized there.
A Perfectly Normal Family won a Bodil and two Robert awards in Denmark and won the Big Screen award at Rotterdam.