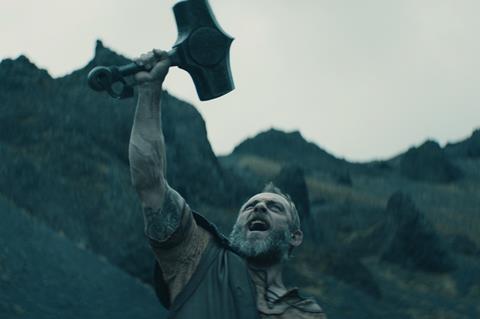 TrustNordisk has boarded sales for Danish director Fenar Ahmad's pan-Nordic production Valhalla, which has shot in Denmark, Sweden, Iceland and wraps its shoot in Norway this week. The first image of the film features Roland Møller (Land Of Mine, Atomic Blonde) as Thor.
The film is quite different than Ahmad's gritty urban feature Darkland (which was a box-office hit in Denmark).
The film is based on the classic Nordic folk tales that were told in Peter Madsen's comic book series. The comics were adapted into an animated feature called Valhalla in 1986 but the new film is very different.
The story, set in the Viking age, follows two kids, Røskva and Tjalfe, who are taken by the gods Thor and Loki on a journey to Asgaard, where the four of them together save the universe from Ragnarok, the end of the world.
Susan Wendt, Managing Director of TrustNordisk, said, "Who would not be intrigued to follow the Nordic gods into the world of Valhalla and watch Thor raise his hammer on a quest to prevent Ragnarok? Fenar did a great job with Darkland and I'm certain he will do so in the case of Valhalla as well.
Producer Jacob Jarek of Copenhagen-based Profile Pictures told Screen, "The original film was more of a family film, we're going a bit up in age, make it a bit darker and appeal to that same audience who watches Lord of the Rings." The target age group for the film is 13-28, he added.
Valhalla is a Denmark-Iceland co-production, with Denmark's Profile Pictures and Nordisk partnering with Icelandic co-producer Netop Films, and it also shot in Sweden (with backing from Film i Skane) and Norway (with partner Bacon/Bulldozer).
Feeling the Viking wind and rain
Ahmad, who co-wrote the script with Adam August, said he had always wanted to make the story of Valhalla but needed to do his lower-budget urban films first. "I read the comics growing up, I fell I love with them when I was seven. But it was more realistic to start with something like Darkland and upscale from there. I now have the capability to do [a film of this scale]," he told Screen on the set of the film in Iceland.
He says the style is "beyond realism" combining a young lead character with dark worlds, as with something like Pan's Labyrinth. Shooting in real nature was crucial for him. "I'm trying to use less CGI and green screen and get more done in camera," he said. "We want to feel the wind and the rain…and we are shooting in these four countries where the Vikings really were."
The film shot for a total of 35 days: four weeks at Denmark's Flyvestationen in Værløse and Kirke Saaby, one week in South Sweden, one week in Iceland and this final week in West Norway, on a budget of about €4.6m.
Jarek explains that the challenges of shooting in a Danish studio then in natural locations in the other three countries was worth it for the value on screen. "We need different nature to build sense that this world is big," he says. "We're building three worlds: Midgard the world of humans, Asgard where Valhalla is, world of gods, and then the evil chaotic forces in Udgaard."
It is the fourth collaboration between Profile and Netop after Rams, Under The Tree, and The County, now in post.
Netop producer Grimar Jonsson was keen to jump on board Valhalla from script stage: "It's a great story, a well known property, and to crate a family adventure from those classic myths. You couldn't find a project that would connect the Nordic coutries better together than this one.
In Iceland, the film shot in Þingvellir, near Vik, and around Thorsmark. Iceland serves as the home of the bad guys, the Jotnar.
"It's a very Nordic adventure," added Jonsson, who is talking to Sena about the Icelandic distribution. "'I'm excited to dub it in Icelandic to reach the younger audience that will love this film."
Changeable Nordic weather has been one concern with so much outdoor shooting, but Jarek said that is manageable. He said, "It's like playing poker. We've been fortunate that we have had storms, it was at night when we weren't shooting, When you want the beauty and the magic of nature you have to deal with it, that's the exciting part."
The cast features Roland Møller (Land Of Mine), Dulfi Al-Jabouri, Reza Forghani , Stine Fischer Christensen, Laura Jonsdottir, Salome R. Gunnarsdóttir, Asbjørn Krogh Nissen and newcomers Cecilia Loffredo and Saxo Moltke-Leth play the lead kids.
Key crew includes DoP Kasper Tuxen, editor Kasper Leick, makeup and prosthetics designers Kristín Kristjánsdóttir & Salla Yli-Luopa, costume designer Margrét Einarsdóttir, production designer Peter Grant, sound designer Peter Albrechtsen, composer Jens Ole Wowk McCoy and line producer Johnny Andersen.
Backers are The Danish Film Institute, DR, Copenhagen Film Fund, Film I Skane, the Nordisk Film & TV Fond, the Icelandic Film Centre and Icelandic broadcaster RUV.
Nordisk has set the release date in the Nordics for October 10, 2019.