Paramount's reboot climbs back to number one on its third weekend; eOne's Mr. Turner posts strong UK debut of over $1.4m (£900,000) for Mike Leigh's best-ever opening.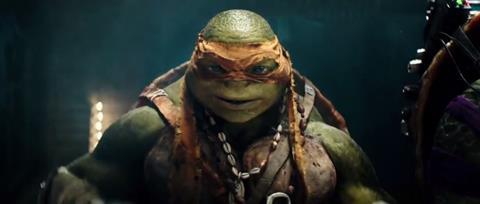 Turns out Halloween was no match for half term. Teenage Mutant Ninja Turtles has narrowly seen off Ouija to regain top spot at the UK box office.
Paramount's reboot added $2.27m (£1.42m) in its third weekend and has now amassed a strong $18.8m (£11.77m), after taking around $4m (£2.5m) over the Mon-Thurs of half term.
It's unlikely to remain at number one this weekend as Interstellar lands, but a lack of family competition opening could see it to another sturdy hold.
UNIVERSAL
It may have missed out on the top spot but Universal can be very happy with Ouija's $2.18m (£1.36m) UK bow, recording a healthy site average of $5,269 (£3,292) in the process.
In terms of horror at the UK box office in 2014, that's only behind Annabelle's bow of $3.1m (£1.93m) and that film arguably benefitted from its connection to 2013's horror smash The Conjuring.
Also for Universal, The Boxtrolls has now stacked up $13.4m (£8.37m) following a $269,000 (£168,000) eighth weekend.
SONY
Last week's champion Fury fell 37% (excluding previews) as it rolled to a $2m (£1.25m) second weekend. Sony's war drama is now up to $9m (£5.6m) in the UK, with £10m a possible target.
Also for Sony, The Equalizer has reached $10.9m (£6.8m) and is now unlikely to surpass King Arthur ($11.4m/£7.1m) as director Antoine Fuqua's best-ever UK performer.
FOX
Falling a respectable 30% in its fifth weekend, Gone Girl found a further $1.7m (£1.061m) as it dropped one place to fourth.
Fox's adaptation is now up to a sterling $30.9m (£19.3m) and will become David Fincher's best-ever UK performer this week, topping Seven's $31.2m (£19.5m).
Also for Fox, The Book of Life prospered over the half term and boosted 12% to take $1.69m (£1.056m) for $6.4m (£4m) after ten days in play. Like Turtles, the lack of family competition should see the animation to another decent holdover.
The Maze Runner has raced to $12.4m (£7.8m) after four weeks in play, while Fox's Halloween re-release of Alien grossed $104,000 (£65,225) from 75 sites.
EONE
Capturing $1.5m (£944,000) over Fri-Sun, eOne's Nightcrawler posted an overall debut of just over $1.6m (£1m) from its 411 sites. A solid start for what is a tricky sell, but word-of-mouth and critical acclaim should see it to a long run.
The success story of the weekend though is undoubtedly Mr. Turner, posting the highest site average of the period after a staggering UK bow of $1.4m (£900,000) UK bow from just 129 sites.
That's comfortably Mike Leigh's best-ever UK debut, topping Happy-Go-Lucky's $610,000 (£381,005) from 77 sites, and the biopic will become Leigh's highest ever grosser, currently Vera Drake's $3.8m (£2.4m) result.
eOne has announced it will almost double the number of sites for Mr. Turner from this Friday [Nov 7], all-but guaranteeing a strong holdover performance.
Also for eOne, its re-release of The Woman in Black at Cineworld grossed $7,400 (£4,600) on Halloween night.
DISNEY
Alexander and the Terrible, Horrible, No Good, Very Bad Day dropped just 9% on its way to a second nationwide weekend of $837,000 (£523,000). Disney's adaptation is now up to $4m (£2.5m) and has become director Miguel Arteta's best-ever UK performer.
WARNER BROS
Hit by the arrival of Ouija, Warner Bros' Annabelle grossed $729,000 (£456,000) and has now possessed a decent $11.4m (£7.12m) after four weeks in play.
Also for Warner Bros, The Judge and This Is Where I Leave You have taken $1.5m (£944,000) and $376,000 (£235,000), respectively.
LIONSGATE
Horns recorded a UK bow of $633,000 (£396,042) from its 379 sites through Lionsgate, including $150,000 (£95,061) in previews.
That marks director Alexandre Aja's lowest ever UK debut for an English-language feature, behind the $1.3m (£834,092) opening of Mirrors from 342 sites.
Also for Lionsgate, Love, Rosie added $198,000 (£123,466) in its second weekend for $1.7m (£1.03m) to date.
ICON FILM DISTRIBUTION
Expanding to 240 sites for Halloween, The Babadook held well with a $470,000 (£293,605) second weekend. Icon Film Distribution's well-received horror is now up to $1.5m (£964,044) in the UK.
ARTIFICIAL EYE
Edward Snowden documentary CITIZENFOUR enjoyed an $86,000 (£53,925) UK bow through Artificial Eye, including $55,000 (£34,452) from its London Film Festival live broadcast to 50 sites. It took $31,000 (£19,473) from 18 sites over Fri-Sun.
STUDIOCANAL
It was always going to struggle after its soft opening and so it proved for Serena as it could only manage a $19,000 (£11,649) second weekend for $320,000 (£200,065) to date through StudioCanal.
DOGWOOF
Released in two sites through Dogwoof, The Overnighters posted a $4,600 (£2,899) UK debut.
UPCOMING RELEASES
This week sees a saturation release for Warner Bros' Interstellar, while Icon's Say When and Munro Films' Set Fire to the Stars both receive wide releases.
Artificial Eye's LFF winner Leviathan, Sony's The Skeleton Twins, Disney's November Man and Dogwoof's The Case Against 8 are among the films receiving a limited release.