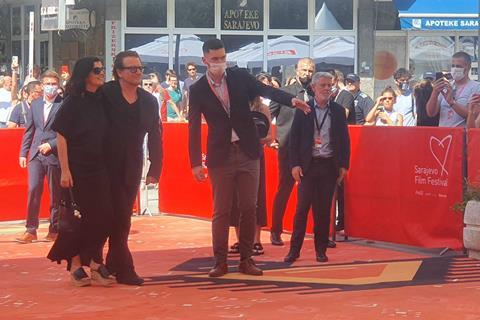 Irish rock superstar Bono was a surprise guest at the 27th Sarajevo Film Festival today, presenting a screening of Wim Wenders' 2000 film The Million Dollar Hotel.
"It's as if there are two Sarajevos – the real and the imagined," said the singer, praising the city in a speech before the screening at Sarajevo's National Theatre. "The one that you live and work in and we visit; and this mythic Sarajevo, a place of fun and magic.
"The festival is the connective tissue between those two Sarajevos. You've had some great filmmakers, but I don't think anyone better than Wim Wenders."
Festival director Mirsad Purivatra shared an image of Bono and Wenders on Instagram, below.
View this post on Instagram
Bono co-wrote the story for The Million Dollar Hotel with Nicholas Klein, as well as being a producer on both the film and the soundtrack. It debuted at the Berlinale in 2000, before going on to play the sixth edition of Sarajevo that summer.
He also praised Purivatra, an ever-present figure throughout the event's history, describing him as 'Miro the monk' for his calmness and consistency.
Bono (real name Paul Hewson) also extolled the virtues of another of Wenders' films – 1984's Paris, Texas – revealing that he and wife Ali Hewson owned a section of the celluloid from a key scene where Natassja Kinski's character converses with Harry Dean Stanton's inside a private sex show. "One of the greatest scenes in cinema history," said U2's frontman.
His arrival had been kept secret by the festival until today but he was still greeted by numerous excited local fans, who waited beside a red carpet for more than an hour in 34-degree Celsius heat.
In keeping with the protocol across the festival, masks were not required on the red carpet. Under local government ruling, they were mandatory for entering and exiting the venue, but were not required once patrons were sat down, as venues are at 40% capacity.
Wenders received the honorary Heart of Sarajevo at the festival's opening ceremony on Friday. A tribute to the German director running throughout the festival will continue tomorrow with a Masterclass.