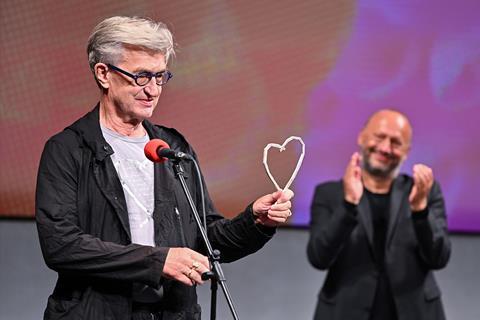 The 27th Sarajevo Film Festival kicked off last night (August 13) with German filmmaker Wim Wenders receiving the Heart of Sarajevo honorary award.
"The eyes are a precious instrument, but the most important organ of a filmmaker is his heart," said Wenders, to an audience in the city's National Theatre.
"It's the heart that sees the beauty and despises ugliness," continued Wenders. "It's the heart that sees peace and suffers from war. It's the heart that sees truth and despises lies."
"This is really the most beautiful prize a filmmaker can imagine – a heart."
Sporting a heart-emblazoned T-shirt from a previous visit to the festival in 2011, Wenders joked, "I'm wearing this `T-shirt proudly ever since. Now I'm walking away with a real heart; I'll come back in 2031."
Wenders will host a masterclass at the festival on August 16, with a Tribute To programme dedicated to his work that started on Saturday (August 14) and will screen films including Alice In The Cities, Buena Vista Social Club and Paris, Texas.
Open Air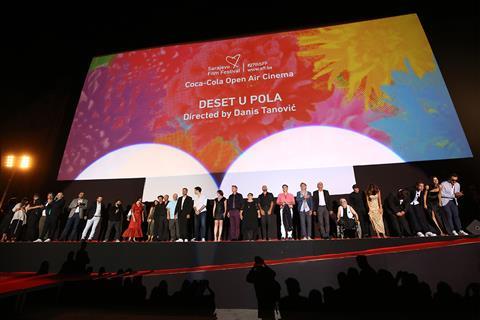 The festival's opening film was the world premiere of Danis Tanovic's Not So Friendly Neighbourhood Affair, which also played at multiple locations around the city including the Open Air Cinema for several hundred guests.
Early signs are that Covid protocols will be thoroughly enforced. To enter the Open Air screening, attendees were required to first present their 'Covid pass' – a document issued by the festival upon receipt of either proof of double vaccination, proof of antibodies or a negative PCR test.
Attendees then had to show their tickets for the screening before finally having a quick temperature check via a scanner on their wrist. Despite several steps, the process did not seem to significantly slow down the entrance of guests to the venue.
Use of masks was required while entering the venue; patrons could remove them once inside, with most choosing to do so.
Several of Sarajevo's screenings for the coming week are at outdoor venues, mainly through the Open Air programme. There are contingency plans for bad weather; however sunshine and 30+ degrees Celsius temperatures are forecast for the coming days.
The local audience responded warmly to the opening film, a comedy set in Sarajevo this year that depicts a neighbourhood dispute over who makes the best cevapi (a local Bosnian delicacy of fried meat).