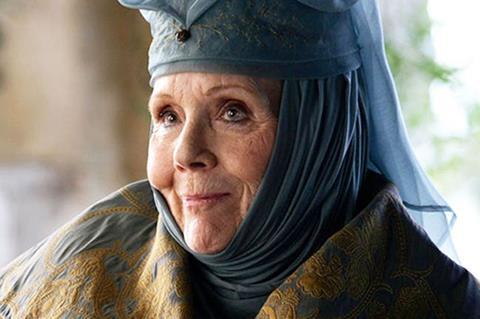 UK actress Diana Rigg, whose prolific career included memorable roles in the James Bond franchise and Game Of Thrones, died today aged 82. She had been diagnosed with cancer in March.
Rigg remained active in recent years and her final performances include Edgar Wright's Last Night In Soho, set for release in April 2021, and miniseries Black Narcissus, co-produced by the BBC and FX.
Born near Doncaster, England in 1938, Rigg began her career on stage before securing her breakout role in 1965 as the iconic Emma Peel in TV series The Avengers. This was followed by her performance as Tracy, the only woman who married James Bond in 1969 film On Her Majesty's Secret Service.
Rigg was nominated for a Golden Globe for her supporting role in Arthur Hiller's 1971 comedy-drama The Hospital and won a best actress Bafta TV award in 1990 for her performance as a complex mother-in-law in TV drama Mother Love. She also won a special Bafta award in 2000 for The Avengers, shared with the series' other leading actresses Honor Blackman, Joanna Lumley and Linda Thorson.
Rigg was also nominated for nine primetime Emmy awards throughout her career – four of which recognised her performance as the astute Lady Olenna Tyrell in HBO fantasy drama Game Of Thrones – winning for her role as Mrs Danvers in a 1997 TV adaptation of Rebecca.
The actress attended TV festival Canneseries in April 2019, where she delivered a masterclass, and was recently seen on UK screens in a new adaptation of rural drama All Creatures Great And Small.
Other notable film appearances came in Douglas Hickox's Theatre Of Blood, Evil Under The Sun, Bruce Beresford's A Good Man In Africa, Michael Winner's Parting Shots, The Painted Veil and Andy Serkis's Breathe.
She is survived by her daughter, actress Rachael Stirling.