Awards contender scores impressive $7.9m (£6.58m) bow from distributor's widest-ever release at 606 sites.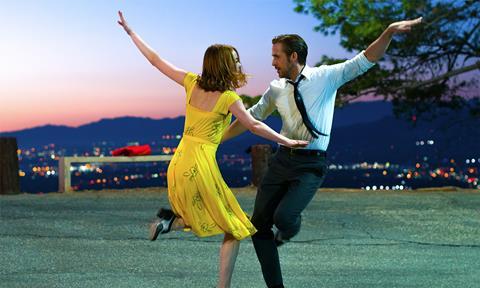 UK TOP FIVE
| Ranking | Film/Distributor | Weekend gross | Running total |
| --- | --- | --- | --- |
| 1 | La La Land (Lionsgate) | $7.9m (£6.58m) | $7.9m (£6.58m) |
| 2 | Rogue One (Disney) | $2.12m (£1.76m) | $75.5m (£62.73m) |
| 3 | Moana (Disney) | $1.26m (£1.05m) | $21.2m (£17.58m) |
| 4 | Assassin's Creed (Fox) | $1.14m (£948,579) | $8.36m (£6.95m) |
| 5 | Passengers (Sony) | $942,000 (£743,000) | $14.3m (£11.85m) |
(Note - Dollar conversions are based on today's rates)
LIONSGATE
La La Land shined brightly on its UK debut as it dethroned Assassin's Creed at the top of the box office.
Lionsgate's awards contender scored an impressive $7.9m (£6.58m) bow, including $1.14m (£943,751) in previews, from the distributor's widest-ever release at 606 sites, marking a site average of $13,074 (£10,863).
The opening marks Lionsgate's fourth-biggest UK debut ever, one-third bigger than the first Hunger Games ($5.9m/£4.9m from 511 sites) and only behind the three Hunger Games sequels.
However you look at it, it's an excellent opening for an original offering not linked to any franchise.
Back in 2013, Les Misérables opened with $9.8m (£8.13m) from 589 sites and, due to its awards success, had a lengthy run to take $49.1m (£40.8m).
A similarly sustained run through awards season and beyond for La La Land could see it finish with around $40m (£33m).
DISNEY
Rogue One: A Star Wars Story fell 46% with a $2.12m (£1.76m) fifth weekend as it remained in second.
Disney's spin-off is now up to a resounding $75.5m (£62.73m) in the UK, making it the 12th biggest film of all time, narrowly behind The Fellowship Of The Ring's $75.8m (£63m) result.
Also for Disney, Moana fell only 11% as it sailed to a $1.26m (£1.05m) seventh weekend for $21.2m (£17.58m) so far. Sing's previews this weekend will provide stiff competition for it to hold as well again.
FOX
Assassin's Creed fell 50% (excluding previews) as it sliced to a non-final $1.14m (£948,579) as it dropped to fourth.
Fox's video game adaptation is now up to $8.36m (£6.95m) after 15 days in play and, as expected, has surpassed the $7.22m (£6m) result of Warcraft: The Beginning.
Also for Fox, Why Him? fell 52% with a $444,000 (£369,115) third weekend for $5.53m (£4.59m) to date, while Bollywood title Ok Jannu posted a UK debut of $81,000 (£67,345) from its 50 sites.
Trolls stands at $28.4m (£23.61m).
SONY
Passengers fell 43% with a $942,000 (£743,000) fourth weekend as it rounded off this week's top five.
Sony's sci-fi romance is now up to a decent $14.3m (£11.85m) to date.
Also for Sony, Underworld: Blood Wars posted a $378,000 (£314,000) UK debut from its 260 sites, marking the lowest opening of the series behind Rise Of The Lycans' $1.19m (£990,285) from 339 sites.
STUDIOCANAL
Manchester By The Sea enjoyed an auspicious start to its UK run as it already became Kenneth Lonergan's best-ever result.
Studiocanal's awards contender amassed a strong $875,000 (£729,477) from its 146 sites, including previews, marking a healthy site average of $6,036 (£4,996).
Even with the crossover success of La La Land, Manchester By The Sea should record decent midweek numbers given its older-skewing audience, with a lengthy run possible if Casey Affleck continues to pick up awards recognition.
Also for Studiocanal, Silence fell almost 80% (excluding previews) with a $181,000 (£150,143) second weekend for $2.44m (£2.03m) to date.
WARNER BROS
Hit by lukewarm reviews, Warner Bros' Live By Night posted an uninspiring $836,000 (£695,000) UK bow from its 449 sites.
That is only ahead of Gone Baby Gone's $423,000 (£351,127) debut from fewer sites (259) in terms of Ben Affleck's directorial outings in the UK, and it could struggle to best that film's final $2.25m (£1.87m) result.
Also for Warner Bros, Fantastic Beasts And Where To Find Them conjured up another $681,000 (£566,000) for a magical $65m (£54m) to date. Chamber Of Secrets' $66m (£54.8m) result is still in reach.
Collateral Beauty stands at $2.64m (£2.19m) after three weeks in play.
ENTERTAINMENT
The Bye Bye Man scared up $646,000 (£535,492) from its 291 sites on its UK debut to chart ninth.
Entertainment's horror might not stick around for long, but it did at least win the battle of the genre debuts ahead of Underworld: Blood Wars.
EONE
In its fourth weekend, eOne's Ballerina added a non-final $381,000 (£316,376) for a strong $4.7m (£3.91m) to date.
Also for eOne, A Monster Calls fell a hefty 62% (excluding previews) with a $374,000 (£310,917) second weekend for $3.09m (£2.57m) after 15 days in play.
PARAMOUNT
Falling 32% in its third weekend, Paramount's Monster Trucks drove to a non-final $375,000 (£312,000) for $3.91m (£3.25m) to date.
VERTIGO FILMS
From its one-site release at the Glasgow Film Theatre, Vertigo Films' The Young Offenders grossed $1,400 (£1,153) following its successful Irish release last year.
UPCOMING RELEASES
This week sees saturation releases for Paramount's xXx 3: The Return Of Xander Cage (opens January 19), eOne's Jackie and Entertainment's Lion.
Universal's Split receives a wide release, while BFI Distribution's re-release of Goodfellas is among the films receiving a limited release.