After two sizable debuts in consecutive weeks at the UK box office – Mamma Mia! Here We Go Again with £9.7m last week and Incredibles 2 with £9.5m the week before – two more titles will be looking to make a splash this weekend.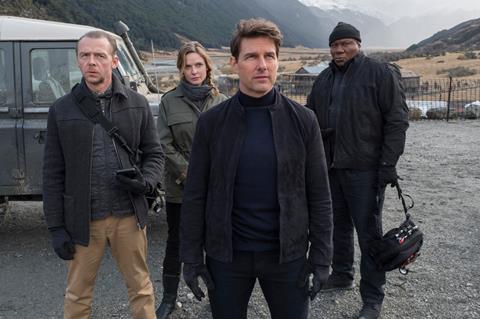 Paramount's Mission: Impossible - Fallout is riding the crest of a wave of positive reviews, with Screen's own calling it a "thrilling franchise topper". Despite being the sixth entry in the long-running Tom Cruise-fronted Mission Impossible series, the possibility of franchise fatigue should be vanquished by the good buzz, and its studio will be hoping the film can top the opening of the previous entry in the series, Mission: Impossible – Rogue Nation, which began with £5.4m in July 2015.
The franchise benchmark remains Mission: Impossible – Ghost Protocol, which opened with a hefty £8.2m in December 2011. The renewed good weather in the UK could prevent Fallout from getting near that total, but strong word of mouth may lead to a long tail.
Also battling the sunshine will be Sony Pictures' Hotel Transylvania 3: A Monster Vacation, which will be looking to make a similar splash to the film's North American bow, where it has already passed the $100m mark after opening with $44.1m.
The first film in the then-unknown series opened with a soft £1.7m in 2012, maxing out on £8.3m, but its sequel posted a more impressive £6.3m debut and ended on £20.7m. The third film will be looking to replicate the latter success, though it faces stiff competition in the family space from Disney holdover Incredibles 2, which was up to £22.4m after its second weekend.
Arthouse releases
One of this week's key arthouse releases is Curzon's Apostasy. The film, which premiered at the Toronto International Film Festival last year in its Discovery strand, is the debut of UK filmmaker Daniel Kokotajlo and was produced through Creative England's iFeatures scheme with the support of BBC Films and the BFI.
Since then, the BFI has also awarded the film £45,000 from its distribution fund to go towards Curzon's release strategy, which is seeing it rolled out into an initial 31 cinemas. The distributor will be hoping the title can follow the success of fellow iFeature Lady Macbeth, which received £150,000 in distribution support from the BFI last year and re-paid the faith with grosses of more than £800,000.
Also out in the arthouse space this weekend is a re-release of Jacques Rivette's drama The Nun, starring Anna Karina as an eighteenth century French girl forced to take vows against her will. The film was originally released in the UK in 1967 and its re-release is being handled jointly by the ICO on behalf of Studiocanal. James Ivory's 1987 romance Maurice, starring Hugh Grant, is also being re-released in cinemas by the BFI this weekend.
Elsewhere, two 2017 Locarno Film Festival premieres are being put out in the UK the weekend before the festival's 2018 edition gets underway: Bulldog is releasing Felix Randau's German drama Iceman, and the ICA is releasing Nelson Carlo de Los Santos Arias's Spanish-language drama Cocote.
In the holdovers space, Zee Studios' Hindi romance Dhadak will be looking to build on a strong opening of £108,342 from 62 sites, Yash Raj will aim for Urdu language crime caper Teefa In Trouble to add to its start of £46,513 from 35 screens, Picturehouse Entertainment will be hoping First Reformed can keep rolling on from £193,708 after two weekends, and Warner Bros will aim to inject some more life into its dystopian story Hotel Artemis after a soft-looking opening of £325,000 from 313 sites.