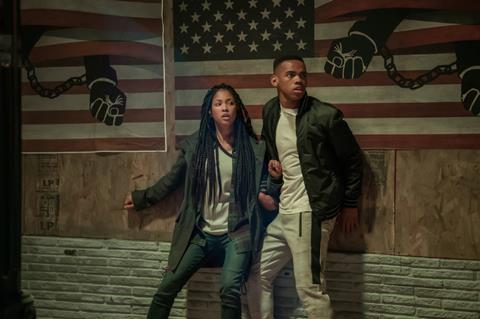 Universal's The First Purge, the fourth installement in Blumhouse's Purge horror franchise, opened on Wednesday (July 4), at 486 sites in the UK.
The release was day-and-date with its Independence Day holiday opening in the US where it garnered $9.3m in the first 24 hours.
Universal is hoping to snag the top two spots at the UK weekend box office with Jurassic World: Fallen Kingdom still going strong. But with warm weather forecast and the English football team kicking off in the World Cup on Saturday afternoon, cinema-going in general is expected to be well below average this weekend.
Competition comes in the guise of Kevin Macdonald's Whitney documentary which Altitude Film Distribution is opening at a muscular 233 sites nationwide today (July 6).
Whitney made its world premiere out of competition at Cannes in May and has since played widely on the international festival circuit. Nick Broomfield's feature documentary Whitney: Can I Be Me? grossed £94,713 (including previews) on its opening in the UK in June 2017, while Macdonald's earlier music documentary Marley, took £200,000 on its debutweekend, going on to gross over £1m in the UK in 2012.
Further openers include Vertigo's UK comedy Swimming With Men (135 sites), which is directed by Oliver Parker and stars Rob Bryden and Charlotte Riley. The feel-good film about a group of men who form a synchronised swimming group closed the Edinburgh International Film Festival last weekend.
Curzon is opening Haifaa Al-Mansour's English-language debut Mary Shelley, starring Elle Fanning, Maisie Williams and Douglas Booth, at 38 sites. The film premiered at Toronto last year.
Entertainment has the UK comedy The More You Ignore Me, starring Sheridan Smith and Mark Addy, which is based on the novel of the same name by Jo Brand, while Lionsgate has the US action comedy Uncle Drew, and Arrow Films is opening the London-set thriller Terminal, starring Margot Robbie and Simon Pegg.