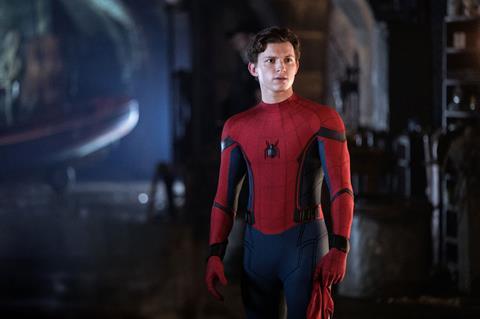 This weekend in the UK will see Spider-Man: Far From Home try to light up this year's summer box office with a blockbuster opening session.
The Marvel film, released by Sony Pictures (which retains ownership of the Spider-Man franchise), follows the recent success of fellow Marvel title Avengers: Endgame, which has taken a goliath £88.3m in the UK, making it the country's fifth highest-grossing release of all time.
Disney put Endgame back into cinemas last week (including some bonus content featuring the cast and crew) to capitalise on the anticipation of Far From Home, and the additional screenings may also in turn provide a boost to the buzz around the Sony release.
Spider-Man actor Tom Holland (a former Star of Tomorrow) appeared in the recent Avengers movies and this is his second solo outing following Spider-Man: Homecoming, which was released by Sony in July 2017 (notably the same slot as the Far From Home release) and took £30.7m after a £6.8m start, or £9.4m including previews.
Sony will be hoping that the newest release may eclipse its predecessor. Early signs are good, particularly from the US where the film is delivering huge numbers in previews. The film had a $39.3m (£31.3m) domestic opening day and forecasts are suggesting it could hit $150m over the weekend. The release is also performing in international territories, including taking $128.4m in China to date.
Mirroring the US, the UK roll out of the film also includes three days of previews (from Tuesday, July 2) in the build-up to its opening weekend. After yesterday, the film stood at £5.7m in the UK,
Looking at previous Spider-Man releases, the top-grosser remains Spider-Man 3, which took £33.6m in 2007. Further entries include Spider-Man 2 (£26.7m, 2004), Spider-Man (£9.4m, 2002), The Amazing Spider-Man (£26m, 2012), The Amazing Spider-Man 2 (£24.1m, 2014), and Spider-Man: Into The Spider-verse (£10.9m, 2018).
Also out this weekend is Ari Aster's horror Midsommar, which comes from Entertainment Film Distributors. Aster's buzzy debut Hereditary took £5.6m, also via EFD, in 2018. The distributor will be hoping a cast featuring UK talents Florence Pugh (Lady Macbeth, Fighting With My Family), Will Poulter (The Maze Runner, The Revenant), and Jack Reynor (Free Fire, Macbeth) will help to boost takings beyond that figure.
Lionsgate is handling two wide releases this weekend. The company is releasing family feature The Queen's Corgi. The animated film features name British voice cast including Jack Whitehall, Ray Winstone and Julie Walters. The Belgian produced project is from directing duo Vincent Kesteloot and Ben Stassen, whose credits include 2016 animation The Wild Life, which grossed $39.5m (£31.4m) globally.
Lionsgate also has Luc Besson's Anna. The thriller about a government assassin stars Sasha Luss, Helen Mirren and Luke Evans – it got underway in the US with a $7m (£5.6m) opening day on Wednesday (July 3).
Modern Films is handling the release of Florian Henckel Von Donnersmarck's Never Look Away. The German-language story of an art student living in West Germany post-Second World War was nominated for two Oscars this year for best foreign language feature and cinematography. The film took a disappointing £930,000 in its native Germany, plus £940,000 in the Netherlands.
Von Donnersmarck's previous film, the Oscar-winning The Lives Of Others, took £2.7m in the UK back in 2007, However, that title also performed considerably better in its native Germany, making the new release unlikely to replicate those takings from its UK run.
Thunderbird Releasing is rolling out Chanya Button's Vita And Virginia. The film stars Elizabeth Debicki and Gemma Arterton in the story of a love affair between literary icon Virginia Woolf, and socialite Vita Sackville-West. It premiered at Toronto in 2018. Button's debut feature, Burn Burn Burn, was bought by Netflix in a global SVoD deal.
Elsewhere, MUBI is handling the day-and-date release of Yann Gonzalez's French and Spanish-language horror Knife+Heart. The film premiered in Cannes Competition in 2018 and will be released in nine UK sites this weekend, as well as being available on the MUBI SVoD platform.
Key holdovers include Disney's Toy Story 4, which will lose its place at the top of the box office chart after two weeks this weekend (its taken £26.9m so far), and Universal's Yesterday, which opened with a £2.1m weekend last time out.