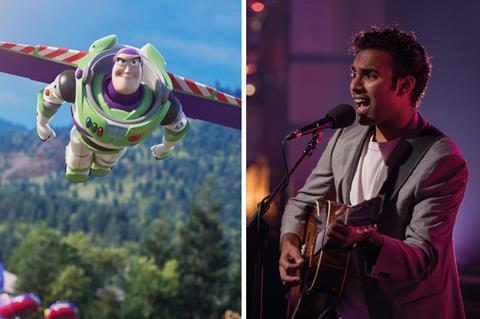 Today's GBP to USD conversion rate: 1.26
| Rank | Film (Distributor) | Three-day gross (June 28-June 30) | Total gross to date | Week |
| --- | --- | --- | --- | --- |
| 1 | Toy Story 4 (Disney) | £8.3m | £26.9m | 2 |
| 2 | Yesterday (Universal) | £2.1m | £2.2m | 1 |
| 3 | Aladdin (Disney) | £700,000 | £33.8m | 6 |
| 4 | Men In Black: International (Sony) | £514,000 | £6m | 3 |
| 5 | Avengers: Endgame (Disney) | £355,000 | £88.3m | 10 |
Disney
Animated sequel Toy Story 4 posted a solid hold this weekend, dropping 38% with £8.3m despite sunny weather across much of the UK, a result that meant it comfortably held onto its place at the top of the UK box office chart.
The film now sits on £26.9m after 10 days in play. That's already more than the lifetime of recent Disney release Dumbo (£25.1m) and takes it close to total gross of Aladdin (which dropped 42% with £700,000 taking it to £33.8m to date), despite the latter having been on release for six weeks.
Avengers: Endgame was back in the top five this weekend, grossing £355,000 for £88.3m. The uptick was due to a new version put into cinemas this weekend by Disney which featured some extra bonus content, with the studio looking to capitalise on the anticipation of fellow Marvel Cinematic Universe release Spiderman: Far From Home, which enters UK cinemas tomorrow (July 2) via Sony Pictures.
The studio now has the top five highest-grossing releases of the year in the UK: Avengers: Endgame, Captain Marvel, Aladdin, Toy Story 4, and Dumbo.
Universal
Danny Boyle's Yesterday, written by Richard Curtis, opened with £2.1m from 657 sites this weekend, a decent site average of £3,265. Including previews, the film is on £2.2m so far.
The romantic comedy stars Himesh Patel and Lily James and is produced by UK powerhouse Working Title. It follows a failing musician who wakes up in a parallel universe where the Beatles never existed, meaning he has free rein to exploit their entire back catalogue to propel himself to stardom.
The release comes off the back of several recently successful music-themed films, though its opening falls short of the likes of Bohemian Rhapsody (£6.4m opening) and Rocketman (£4m).
For director Boyle, Yesterday's opening falls in line with 127 Hours, which started with £2.2m in 2011 and ended on £7.8m. The result actually tops Boyle's top-performing title in the UK, which remains Slumdog Millionaire, though that film benefited from a significantly long tail, opening with £1.8m in 2009 and building all the way to £31.7m.
This weekend the majority of the UK saw some notably good weather, which won't have helped cinemas. Yesterday could make up some ground in midweeks, with more middling weather forecast, however tepid reviews may hold it back in the long run.
The Secret Life Of Pets 2 added £292,173 this weekend for £18m to date. The film will end a long way short of the previous entry, which took £36.6m in the UK.
Ma is up to £1.6m in the UK.
Sony Pictures
Men In Black: International took £514,000 this weekend, a drop of just under 50% in its third session. The film is now on £6m in the UK.
Brightburn added £99,000 in its second weekend, a hefty 67% drop on an already underwhelming opening session. The film is now on £839,000 in the UK.
Paramount
Rocketman added a further £340,000 this weekend, down 57% as the market suffered from the good weather. The film has taken £22.1m to date - the only non-Disney release this year to crack £20m in the UK.
Dogwoof
Apollo 11, a feature documentary about the American expedition to land the first man on the moon, opened with an impressive £300,257 from 91 sites. That's a solid average of £3,287 per site, particularly impressive considering the film will not have had the screen real estate typically afforded to a non-doc release (such as Yesterday, which clocked a near-identical site average but will have had more showings). Including previews, the film is on £325,342 so far.
That number tops the recent opening of Altitude's sports documentary Diego Maradona, which started with £249,543 two weeks ago (playing in 139 sites) – the latter film just became the year's highest-grossing documentary in the UK (see further down), meaning prospects are good for Apollo 11 if it has the legs.
Warner Bros
Godzilla: King Of The Monsters added £67,000 to take it to £6.9m so far. The film won't get close to the franchise's 2014 entry, which took £17.2m in the UK.
Pokemon: Detective Pikachu added £10,000 and is up to £13.5m.
Altitude
Sports documentary Diego Maradona became the year's highest-grossing documentary in the UK this weekend, adding an extra £46,586 (non-final) to take it to £779,334 so far. That surpasses Aretha Franklin doc Amazing Grace, which was released by Studiocanal.
Curzon
Peter Strickland's ghost story In Fabric opened on 29 screens this weekend, taking £22,154 (from 27 reported venues, final figure to come). Including previews, the film stands at £42,667 so far.
Despite typically being well reviewed and developing a cult fanbase, Strickland's work has struggled to chime with UK cinemagoers. The results of his films have, however, been consistent - The Duke Of Burgundy opened with £42,155 (ending on £169,371) and Berberian Sound Studio started with £45,516 (ending on £161,779).
B4U Network
Punjabi-language romantic comedy Shadaa added £42,000 in its second weekend, taking it to £155,000 to date.
Entertainment One
Late Night added £13,460 this weekend and is up to £1.3m so far. Booksmart added £17,411 and is on £1.4m.
Parkland Entertainment
Sometimes Always Never added £9,921 and is up to £216,255 from its UK run.