UK-filmed features generated more than $9.4 billion at the global box office in 2015.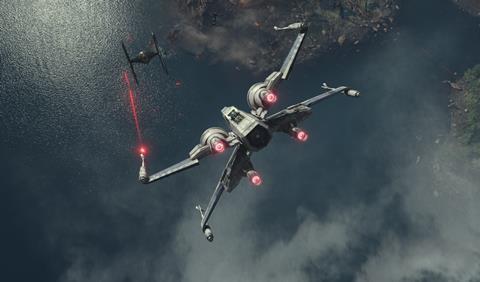 Bolstered by Star Wars: The Force Awakens, UK-made films took in a record-breaking total of $9.4bn in 2015, according to BFI figures.
This amounted to a 26% share of the global market, a 13% increase on 2014's total.
Star Wars: The Force Awakens, which was largely filmed in the UK, earned more than $2bn worldwide, making it the third highest-grossing film of all time.
Independent UK films led by titles including Paddington ($112m in 2015), Shaun The Sheep Movie ($103m) and The Imitation Game ($102m in 2015), grossed a total of $1.1bn worldwide in 2015.
That total amounted to 2.8% of the global box office, the highest share since reporting began in 2002.
Between them, the top ten independent UK films grossed $679m worldwide in 2015, with the aforementioned titles joined by the likes of Brooklyn ($45m) and Legend ($39m) on the list.
The top-performing territories for UK-made productions were: New Zealand (39% of the country's total box office), Australia (33%), Russia (32%) and France (24%).
British minister for culture Ed Vaizey said: "The UK is home to world-leading creative talent, and so it's no surprise that 2014 was another record-breaking year for British film. From blockbusters like Star Wars to independent award winning productions like Paddington, British made films continue to excite audiences far and wide."
BFI CEO Amanda Nevil added: "The worldwide box office numbers once again underline the vital role played by our fantastic talent, crews and production facilities in making films here in the UK that are seen by audiences worldwide."
The BFI classifies a UK film as any officially certified by the BFI via the cultural test or one that is "obviously British" for its British content, producers, finance or talent.