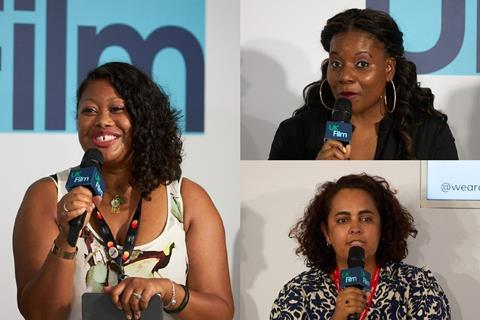 The Cannes Film Festival was criticised for not being inclusive enough during a diversity panel session at the UK Pavilion yesterday (22 May).

Yolonda Brinkley, the founder and executive director of Diversity In Cannes, an initiative to promote inclusion in Cannes, called out the festival for only programming one film from a Black female director in competition in the event's 75-year history, the French-Senegalese director Mati Diop's 2019 title Atlantics.
Brinkley formed Diversity In Cannes after she attended the festival for the first time in 2009, and found herself and other Black attendees feeling alienated.
"I want to give props to the Berlinale, because they talk to you, they entertain you, unlike some festivals," she said, implying a lack of recognition from Cannes in response to her efforts to open up a dialogue about progressing diversity. "They don't see you, they don't hear you, and I'm done trying."
Brinkley was speaking at a session titled 'Just another diversity scheme?'.
The panel also included Tamara Dawit, vice president, inclusion and growth, Canada Media Fund; Marcello Paolillo, project manager, at Locarno Film Festival; Matthijs Wouter Knol, CEO and director of the European Film Academy; and Tamara Tatishvili, head of training at Medici, a company that provides vocational training to public film financiers. It was chaired by Melanie Hoyes, head of inclusion at the British Film Institute (BFI).
The panel called for more to be done to be inclusive of developing nations.
"Sometimes, we're not able to make space for participants from organisations from the Global South. They're not here, because they can't afford to come here [Cannes]," said Dawit. "Yes, we've had an African pavilion for a few years, but there are very few countries that can afford to send people to be in the market and join the pavilion. Those are the people we have to start thinking about including, from Africa, from Asia, from Latin America, so there's a sense of geographic and racial diversity in these conversations.
"Even simple things like during Covid, a lot of things went online, but a lot of the filmmakers I work with in East Africa can't get internet to join online things on Zoom. We think we're making things more accessible, but we're adding in more barriers."
Youth drive
The need for fresh voices to filter through from younger generations was also emphasised.
"I would like to see more and more people from the younger generation [in the industry]. You see the difference of approach," said Paolillo. "What makes me hopeful is younger people see things from a different perspective."