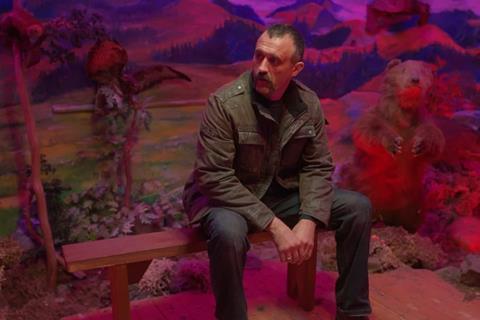 Cannes' Director's Fortnight title Pamfir, the debut feature from Ukrainian director Dmytro Sukholytkyy-Sobchuk, has sold to several major territories via Paris-based sales company Indie Sales and has unveiled its theatrical trailer.
The film has sold to France's Condor, Canada's FunFilms, Italy's Movies Inspired, Poland's Gutek Film, Switzerland's Trigon, Greece's Ama Films, Indonesia's Falcon Pictures, Slovakia's ASFK and to A-One Films for the Baltic states.
Condor will release the film in France on November 2 after an ambitious tour with the director throughout the country. The film itself was co-produced by French production shingle Les Films d'Ici and received aid from the CNC.
Following its Cannes debut amidst the ongoing conflict in Ukraine, Pamfir received a special mention at Kyiv's Molodist Film Festival and scored six nominations at the Ukranian national awards.
Pamfir takes place in Western Ukraine on the eve of a traditional carnival and follows its titular character Pamfir who returns home to his family after months of absence and must right a wrong and reconnect with his troubled past.
Screen called the film "a stop-in-your-tracks debut" for first-time filmmaker Sukholytkyy-Sobchuk that "gives us an elemental, unvarnished Ukraine" complete with "some outstanding imagery, genre elements and certainly a taste for violence".
A truly international co-production, Pamfir was produced by Ukrainian Aleksandra Kostina's Bosonfilm alongside Laura Briand from Les Films d'Ici, Warsaw-based Madants' Bogna Szewczyk and Klaudia Smieja-Rostworowska and Chilian Giancarlo Nasi's Quijote, backed by producer Jane Yatsuta.
The title was co-financed by the Ukrainian State Film Agency, Ukrainian Cultural Foundation, Polish Film Institute and the French CNC. Mainstream pictures' Artem Koliubaiev, Wady Films' Adolf El Assal, Moderator Inwestycje's Adam Gudell, Alyona Tymoshenko, Soilfilms' Silvana Santamaria, and Studio Orlando are co-producers. The film is supported by Visions Sud Est, Göteborg Film Fund, Hubert Bals Fund + Europ, Ukrainian Institute, German Films and Chernivtsi region.
Founded in 2013 by Nicolas Eschbach and Eric Neve, Indie Sales has established itself as a major player on the international sales scene. The company will be at Rome's MIA with Belgian Zillion directed by Robin Pront (The Ardennes) set for a wide release in Belgium on October 26. The nightclub thriller inspired by the rise and fall of the legendary Antwerp club of the same name will be holding market screenings in Rome.
Recent French titles from their slate include Blandine Lenoir's Angry Annie starring Laure Calamy, Marc Fitoussi's Two Tickets to Greece also starring Calamy alongside Kristin Scott Thomas, Noemi Lvovsky's The Great Magic and the CGI animated Richard the Stork 2.