EXCLUSIVE: Screen can reveal the first image from the company's first film Duck Duck Goose.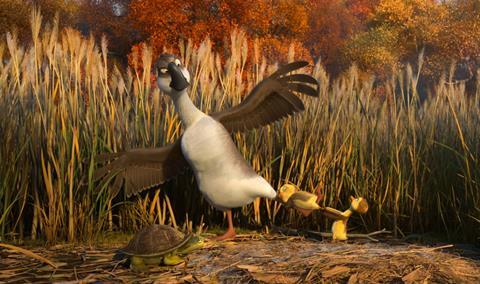 UK's GFM Animation, China's Original Force extend partnership
GFM Animation, the UK sales and production label for animated films run by the GFM Films, has extended its partnership with Chinese production outfit Original Force Animation.
The companies previously teamed on family animation Duck Duck Goose, which features the voice of Stephen Fry. Screen can reveal an exclusive first image from the film [pictured].
That film is in the final stages of production and will be distributed in China through Wanda Film Group in February 2018.
Through the new agreement, the two companies will work together to secure production funding and worldwide distribution for the animated films created by Original Force, and will also acquire third party animated for distribution in China and potentially worldwide sales.
Harley Zhao commented on the strategic alliance: "With Duck Duck Goose as a pioneer, Chinese animated movies are now setting out to thrall the global audience.
"We are thrilled to have GFM Animation on board on this wonderful journey. I have no doubt that more is to be expected from our alliance on this and future movies."
Guy Collins and Michael Ryan from GFM added: "China has become an extremely important part of GFM Films' and GFM Animation's business activities in terms of production, distribution and financing.
"Numerous visits to China over the past two and a half years have made us keenly aware of the creative and animation expertise of the entire Original Force team. When distributors and cinema audiences worldwide see Duck Duck Goose for the first time it will set a new benchmark for the quality & commercial prospects of Chinese animated movies."