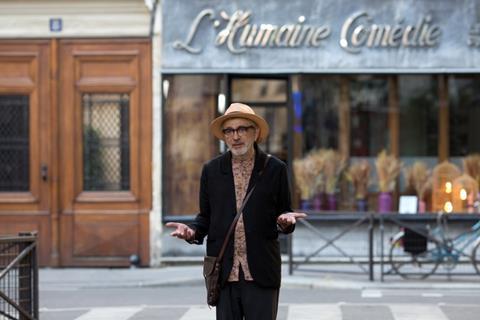 Robert Beeson's New Wave Films has snapped up UK theatrical rights to Elia Suleiman's Cannes Competition title It Must Be Heaven, Un Certain Regard titles Homeward and Fire Will Come, as well as The Cordillera Of Dreams, which was a Special Screening.

New Wave has also bought Jean Paul Civeyrac's French coming-of-age film, A Paris Education, which had its festival debut in Berlin's Panorama, from Les Films du Losange.
Suleiman's It Must Be Heaven and Homeward, by Ukrainian director Nairman Aliev, about a father and son taking the body of their elder son and brother home for burial, were both sold by Wild Bunch.
Pyramide International is handling Fire Will Come by Spanish director Oliver Laxe, and Patricio Guzman's The Cordillera Of Dreams. The latter is the third part in Chilean director Guzman's trilogy of documentaries which also includes Nostalgia For The Light and The Pearl Button.
UK release plans
Beeson told Screen some of New Wave's latest acquisitions would be released this year but some would have to wait until 2020.
"If you only acquire [Cannes titles] in Cannes, then you have got a whole time lag to deal with," Beeson explained. He also pointed to the "jammed" UK release schedules and contractual obligations that may be part of deals.
For example, Beeson said New Wave is obliged to wait to release It Must Be Heaven in the UK until after the film has been released in France by Le Pacte in December.
While some high-profile arthouse titles may opt to wait for the potential launchpad provided by a UK premiere at the London Film Festival in October, the uncertainty around the Brexit process is also continuing to affect UK independent distributors' release strategies. Foreign-language films are potentially eligible for EU MEDIA Distribution selective support - but if the UK crashes out of the EU without a deal on October 31, that may stop immediately.
However, as Beeson explained, the process of securing this support is often time-consuming and cumbersome. "We are part of a grouping that has applied," Beeson said of the application for It Must Be Heaven. It is made by the sales agent (Wild Bunch in this case) which must have a minimum of seven different distributors attached to the project. The next funding decisions will not be confirmed until December which is why some distributors hoping for support are likely to delay setting a release date.