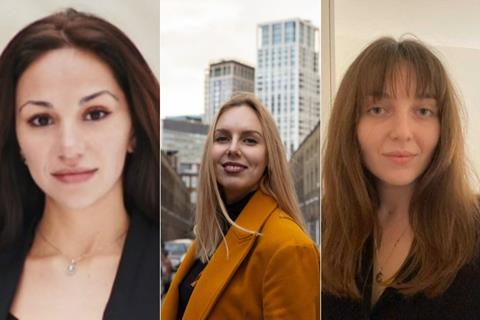 UK sales, finance and production outfit Rocket Science has boosted its business affairs and marketing departments with three new hires.
Elizabeth Kormanova, previously of HanWay Films, has been appointed head of distribution, while Diana Podra is the new business affairs coordinator and Isabella Endacott has joined as sales and marketing coordinator.
A statement from Rocket Science said that the hires aim to "expand and increase the company's international reach and diversity".
Based in the Bulgarian capital Sofia, Kormanova will manage Rocket Science's distribution agreement negotiations and joins after six years at HanWay Films, where she was director of business affairs.
Kormanova has worked on titles including Colette, Pavarotti, Pinocchio and The Card Counter. Previously, she held positions at Tribeca Film Institute in New York and Studiocanal Paris.
Podra will provide support for all of Rocket Science's business affairs endeavours and will be based in the London office. Prior to joining Rocket Science, Podra worked as a freelance producer and as a production and development executive at Quiddity Films for producer Emily Morgan.
Both Kormanova and Podra report to head of legal and business affairs Levi Woodward.
Endacott will work across all areas of the sales and marketing departments and will also be based in the London office. She has previously worked at the CNN division of Warner Media before moving to Berlin to study at the German Film and Television Academy.