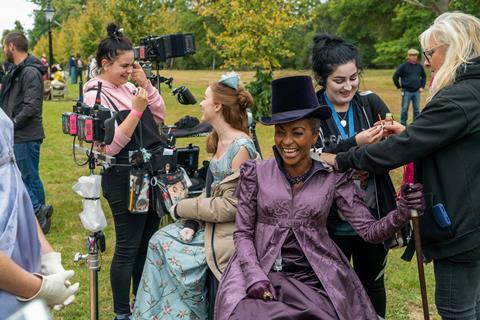 UK film and television training body ScreenSkills is to invest £10.1m in its High-End TV (HETV) Skills Fund to facilitate the training needs in demand from the booming sector.
The fund is made up of contributions from UK producers, broadcaster in-house productions and inward investors and the 2022-23 pot marks a significant increase on the £6.7m fund available in the current financial year. This year's fund has supported 1,400 people to develop their professional skills and fill the shortage gaps.
As part of the increased fund, the Trainee Finder programme will support over 200 paid placements for new entrants, up from 120 this year, while adding a cohort of at least six trainees in virtual production.
ScreenSkills is also nearly doubling its investment in Make a Move to £2m to support the increase in anticipated productions shooting in the UK in 2022-23. The programme funds stepping up opportunities.
The HETV job share programme will also be expanded to accommodate flexible working for up to 40 job-sharers.
The HETV industry working group will continue to focus on access to training and opportunities across the UK with the introduction of industry working groups in Wales, Scotland and Northern Ireland to ensure training opportunities are determined more locally.
Skills shortages
The investment is designed to bridge the required skills needed by HETV productions, as highlighted in ScreenSkills' High-End Television in the UK 2021/22 workforce research.
The survey of almost 100 respondents revealed that 86% considered skills shortages as 'serious' or 'very serious' – a jump up from the 72% who expressed the same concerns in the previous year's report.
Jobs that were identified as facing shortages for the first time include assets clearance, the sound department, carpentry and construction, VFX, post-production supervisor and coordinator, make-up artists and dailies and digital imaging technician (DIT).
The skills gap is a national problem, with the nations and regions particularly affected when a number of productions are shooting at the same time and capacity is reached much quicker.
Other issues identified include people moving up too soon which can stress productions and risk mistakes being made, with a knock-on effect on budget, health and safety and shooting schedules.
Catching up from lockdown-induced stoppages and the in increasing inward investment from SVoDs were the main forces driving crew demand, according to the report, which also acknowledged the industry's efforts to counter these problems.
The HETV Skills Council has agreed to raise the cap on contributions paid on all productions costing up to £5m per broadcast hour from April.
A version of this story first appeared on Screen's sister site Broadcast.