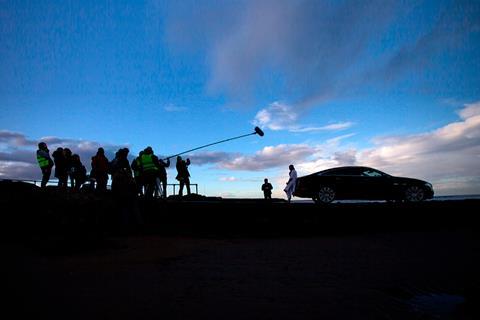 The UK's Screen Sectors' Skills Task Force has unveiled a slew of recommendations following seven months of industry engagement, including a fresh remit for a pan-sector strategic skills body, apprenticeship reform, strengthening partnerships with the education sector and plans to develop a pan-sector funding model.
The task force has also revealed that its member organisations alone spent £100m on skills investment in 2022 – which is more than the 1% of production budgets recommended by the BFI Skills Review. The task force was formed as a response to the recommendations in the skills review, commissioned by the Department for Culture, Media and Sport (DCMS) and published in June of last year.
"But despite this significant commitment, there remains a burgeoning disconnect between an increasingly strained, insufficiently diverse workforce and the demand for skills that the industry makes of it," said Georgia Brown, former Amazon exec and chair of the task force, in the foreword to the report.
Brown is joined by Pact CEO John McVay as vice-chair and Oliver Lang as consultant to the project, with participation from 28 organisations, including Amazon Studios, Apple TV+, BBC, Bectu, BFI, Channel4, ITV, Disney, Paramount, ScreenSkills, Sky, Sony and Warner Bros. Discovery, as well as regional bodies Creative Wales, Screen Scotland and Northern Ireland Screen.
"While we agree with so many of the findings from the BFI review, we're no longer in the peak of the market. We have had a significant retraction in terms of the [US WGA and SAG-AFTRA unions'] strikes and the effects of the economy over the last year. We're no longer in the moment of time that informed their review or their recommendations," noted Brown during a report briefing, as the post-Covid production boom – 2022 was a record year for UK screen production, with £6.3bn spend on film and high-end scripted TV – appears to be plateauing.
"If we have longer-term plans, and a more mobile workforce, hopefully we can try and flatten out the peaks and troughs a little more," added McVay. "I don't want to see someone who was really skilled leaving the industry because they haven't worked for nine months. We want people to build long-term careers."
He continued, "We're going to get back to some sort of business as usual. It may not be back to the peak of '22, but this industry is cyclical. I've been through several of these cycles before."
The impact of the Hollywood strikes on UK production has resulted in thousands of below-the-line being left without work during the course of this year. The report, therefore, sets out its focus "not just on bringing new people into the sector from a broader and more diverse pool of talent, but on retaining the people that work within it already".
The task force – which addresses those working in physical as opposed to digital production – has three core proposals: to strengthen strategy and partnership; to support sustainable growth and sustainable careers; and to put work-based training at the heart of skills development. It has aligned its approach to the government's ambition for £50bn growth in the UK creative industries by 2030.
Recommended actions include a revised approach to industry skills data and analysis; a new remit for shaping pan-sector skills strategy and partnerships; a fresh approach to partnership with the education sector; commitment to implementing a sustainable funding model for pan-sector investment; a focus on transferable skills to enhance employment opportunities; greater support for job mobility including return to work and industry transfer programmes; apprenticeship reform to unlock sector apprenticeships at scale; increased priority for work-based skills development; more placements to increase sector diversity and inclusion; and extended pilots to support wider roll out of flexible and inclusive working patterns.
ScreenSkills
It suggests that UK training body ScreenSkills be the best placed organisation to take on the role of a pan-sector strategic skills body. "While the foundations are there, we believe delivering this proposal would require a significant transformation of ScreenSkills," said the report. "This would mean a new governance model to reflect a pan-sector role with a focused operating model that puts partnership at its heart."
ScreenSkills, as members of the task force, has been closely involved with the development of the proposals, with the ScreenSkills board now developing more detailed proposals – expected to be completed by the end of the year – for delivering the change. The task force aims to have the new pan-sector skills strategy in place by April 2024.
A statement from ScreenSkills on the findings said: "This report underlines the urgency of addressing the current and future skills challenges that face the screen industries. ScreenSkills is strongly committed to working towards a unified skills strategy, data and insight driven and built on partnership as the backbone for our creatively brilliant sector. We also recognise that, together with the broader sector, ScreenSkills needs to evolve so that we can all keep pace with the changing needs and demands of the talented workforce that we were created to support. Having worked constructively with the Taskforce and its members on this report, we look forward to continuing to do so as we work through the detailed recommendations."
The report also outlines the current limitations in representation for people with disabilities and from ethnically diverse groups. According to data from Diamond (the TV industry system for collecting diversity data) for 2021-22, only 6.5% of off-screen contributions were from disabled people, compared with an estimated 18% UK wide population with disabilities; Black, Asian and Minority Ethnic people were underrepresented in almost all senior roles; off screen representation by those identifying as South Asian was low and falling.
Analysis of the task force members' £100m investment in skills suggests it could be put to better use. While 64% of investment had diversity, equity and inclusion targets attached, other areas were underserved. Only 27% of investment was targeted at mid-senior level career development. Nearly 70% of spending was targeted at early and entry level skills development. Task force members' unused apprenticeship levy payments were equivalent to more than 1000 new apprenticeships a year.