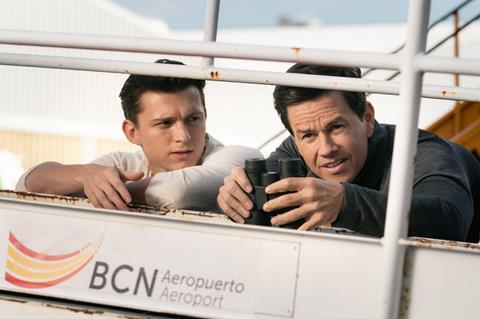 Worldwide box office February 18-20
| Rank | Film (distributor) | 3-day (World) | Cume (World) | 3-day (Int'l) | Cume (Int'l) | Territories |
| --- | --- | --- | --- | --- | --- | --- |
| 1. | Uncharted (Sony) | $99.5m | $132.1m | $55.4m | $55.4m | 63 |
| 2. | Death On The Nile (Disney) | $26m | $74.8m | $19.8m | $49.9m | 51 |
| 3. | The Battle At Lake Changjin II (various) | $19.6m | $580.8m | $19.6m | $580.8m | 5 |
| 4. | Too Cool To Kill (various) | $17.3m | $369.2m | $17.3m | $369.2m | 3 |
| 5. | Dog (various) | $16.2m | $16.2m | $1.1m | $1.1m | 4 |
| 6. | Spider-Man: No Way Home (Sony) | $15.3m | $1.8bn | $8.1m | $1bn | 64 |
| 7. | Sing 2 (Universal) | $13.1m | $332m | $10.3m | $184.7m | 67 |
| 8. | Nice View (various) | $11.2m | $187.8m | $11.2m | $187.8m | 1 |
| 9. | Marry Me (Universal) | $8.8m | $35.9m | $5.1m | $19.1m | 64 |
| 10. | Jackass Forever (Paramount) | $7.2m | $60m | £2m | £13.3m | 12 |
Credit: Comscore, all figures estimates, click top right to expand
'Uncharted' scoops treasure with major expansion
Sony's videogame adaptation Uncharted topped the global box office with an estimated $99.6m, boosted by its debut in North America and expansion from an early 15 international markets to a significantly wider 62 territories.
The treasure-seeking action adventure began in North America with an estimated $44.2m for the three-day weekend (and a projected $51.0m including the Presidents' Day Monday holiday), and took an estimated $55.4m in international markets. Not counting the North America Monday number, the worldwide cumulative total is $132.2m.
Among new territories, France led the way with an estimated $6.3m, ahead of Australia ($4.0m), Germany ($3.4m), Italy ($3.1m), South Korea ($3.0m) and Mexico ($2.4m).
Box office was down an estimated 30% in holdover markets, which were led by UK/Ireland with $5.1m, down just 20% and giving a 10-day total of $16.4m. Russia added $2.9m and Spain added $2.4m.
Uncharted is a prequel to the PlayStation videogame series, and stars Spider-Man's Tom Holland as a young Nathan Drake who is mentored by Mark Wahlberg's Victor Sullivan as they seek two lost ships laden with gold.
Uncharted has already nearly matched the total North America gross of Warner Bros' 2018 Tomb Raider reboot starring Alicia Vikander, which reached $58.3m domestically. For international, Tomb Raider grossed $216.4m, taking the final number to $274.7m worldwide. Uncharted looks well on course to breeze past those totals.
Upcoming markets for the film are Philippines (February 23), China (March 14), Hong Kong (March 17) and Netherlands (March 17).
Channing Tatum's 'Dog' woos North America audiences
United Artists Releasing's Dog, directed by Channing Tatum and his producer partner Reid Carolin, and starring Tatum, has begun strongly in North America, with an estimated $15.1m for the three-day weekend, and a projected $18.1m including the Presidents' Day holiday Monday. These numbers are ahead of expectations for a road trip comedy with a $15m production budget.
For international, Comscore reports an estimated $1.1m for three early markets, which include UK/Ireland. Worldwide, Dog grossed $16.3m for the weekend period, and landed fifth in the global chart.
Tatum stars as a US Army Ranger who reluctantly accompanies a military dog, Lulu, to the funeral of her former handler.
'Death On The Nile' hits $75m after second weekend
Disney's Death On The Nile saw a significant box office drop in North America for its second weekend of play, down 51% to an estimated $6.25m, but held up well in international markets, boosted by a slight expansion of territories including into China.
For international, the weekend tally was an estimated $19.8m. Cumulative totals are $25.0m in North America, $49.9m for international, and $74.9m worldwide.
In holdover international markets, Death On The Nile fell 38%, and ranked in second place (behind Uncharted) in Italy, Russia, Australia and several smaller territories, and in third place in UK/Ireland, Germany, South Korea and Brazil.
The Hercule Poirot mystery opened in China on Saturday with an estimated two-day $5.9m, earning fourth place in the country's weekend chart, and also opened in Spain, delivering an estimated $1.0m.
Cumulatively, UK/Ireland leads the way among international markets with $6.4m, ahead of China ($5.9m), Russia ($5.0m), France ($4.4m) and Italy ($4.1m). Next to open the film is Japan, where it arrives this coming weekend.
Death On The Nile has so far reached only 21% of the $353m worldwide box office total achieved by Kenneth Branagh's earlier Poirot film, Murder On The Orient Express in 2017.
Chinese New Year titles lose grip on global chart
Having led the global box office chart in the top two places for two consecutive weekends, a pair of Chinese titles – both released on February 1 for China's New Year holiday – have now slipped down into third and fourth position.
The 1950s-set patriotic war epic The Battle At Lake Changjin II grossed $19.7m in its third session, taking the total after 20 days to $581m. This compares with a lifetime total of $903m achieved by the original The Battle At Lake Changjin in 2021.
Xing Wenxiong's comedy Too Cool To Kill was close behind with $17.4m, and has reached $369m after 20 days.
Chinese comedy-drama Nice View is also in the global top 10, with $11.2m for its third weekend, taking its total to $188m.