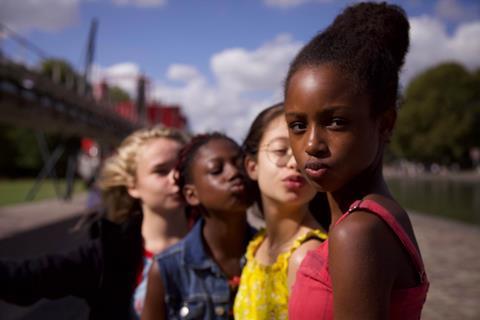 French cinema export body UniFrance has publicly declared its support for Cuties filmmaker Maïmouna Doucouré, who has been in the eye of a media storm in recent weeks following accusations that her film sexualises its young protagonists.
The state-backed body posted a statement in both French and English on its website today (September 18), which also got behind the film's producer Zangro as well as Paris-based Bac Films, which handled the film's international sales and its French theatrical release in August.
"Cuties offers a subtle and sophisticated denunciation of the hyper-sexualization of a young generation who translate and reproduce the images that inundate them in their daily lives, particularly via social media," read the statement.
"Whether we are spectators, parents, teenagers, producers, or distributors, this film invites us to reflect on the power of these images and the complexity of the constant dialogue between young people and the generation of their parents. This film appeals to our sense of discernment, be that on an individual or a collective level, and calls on us to assume our responsibilities," it continued.
Cuties premiered at Sundance in January, winning Doucouré best director in the World Cinema Dramatic section. It then headed to the Berlinale's Generation section, which is aimed at youthful stories and younger audiences.
The film began experiencing a backlash in the US in August, however, after an image of the film showing the protagonist and other cast members dressed in skimpy clothing was used for a promotional poster accompanying the release on Netflix.
UniFrance, which has supported the promotion of Cuties on the festival circuit and also recently celebrated Doucouré in an initiative showcasing emerging French talent, said it had been carefully monitoring the situation.
"Over the past several weeks, we have been closely following the exceptionally violent reaction to the film in the United States, during a presidential election campaign in full swing. In this context, UniFrance and all of its members wish to pledge their full support to Maïmouna Doucouré and to reaffirm their commitment to supporting the freedom of artistic creation and expression," read its statement.
The debut feature of Doucouré, Cuties follows an 11-year-old Senegalese girl who starts at a new school in Paris where she falls in with a gang of girls obsessed with their looks and posting images of themselves on social media.
Doucouré told Screen back in January that the work grew out a desire to explore what it means to approach womanhood between two cultures as well as the wider theme of the hyper-sexualisation of youngsters in modern society. She recounted how she had spent more than a year researching the topic, interviewing groups of girls she met in the street, in parks or youth associations, trying to find out what drove them to dress and dance so provocatively and then post clips publicly.
A number of French cinema bodies have expressed their support for Doucouré in recent weeks including director's guild L'ARP which described the backlash as "a serious attack on creative freedom".