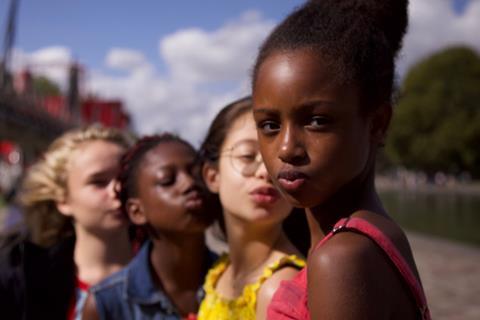 French-Senegalese director Maïmouna Doucouré is back in Park City for a second time with her debut feature Cuties, which premieres in Sundance's World Dramatic Cinema section, having previously won the festival's short jury award for Maman(s) in 2016.
Paris-born Doucouré belongs to a generation of French directors with West African roots currently making waves internationally alongside Oscar-nominated Les Misérables director Ladj Ly, whose parents are from Mali, and Atlantics filmmaker Mati Diop, whose father is Senegalese.
"There is a real revolution going on but there's still a lot work to do. If I ask someone [in France] to name a black actor, the only name they can still come up with is Omar Sy," says Doucouré, referring to the popular Intouchables star, who has forged a career on both sides of the Atlantic.
"When I was growing up, I didn't have any models on TV or in the cinema but that's changing. Ladj Ly going to the Oscars or Spike Lee at Cannes, it all part of this movement," she adds, referring to Lee's upcoming presidency of the 2020 Cannes Film Festival jury. "We need more black people to exist behind and in front of the camera to show youngsters growing up now that they can do it too."
Self-taught Doucouré got her first entry into directing when she won the Hlm sur cour(t) prize in 2013. The initiative is aimed at encouraging the creation of short works challenging clichés around the lives of the inhabitants of social housing estates across France. As a result, Doucouré made the self-produced debut work Cache-cache about a group of children on a housing estate accused of abducting an elderly neighbour's pet.
"It opened a door and made me realise I was capable of making a film," she says. "I knew I had stories to tell but until then didn't think I was capable. It set me on a magical adventure."
She joined forces with French-Spanish producer Zangro at Bordeaux-based Bien ou Bien Productions for her second short, Maman(s).
Drawing on her own bi-cultural upbringing, the Paris-set drama revolved around a girl growing up between French and Senegalese cultures, whose home life and sense of identity is challenged when her father takes a second wife.
"Shock and admiration"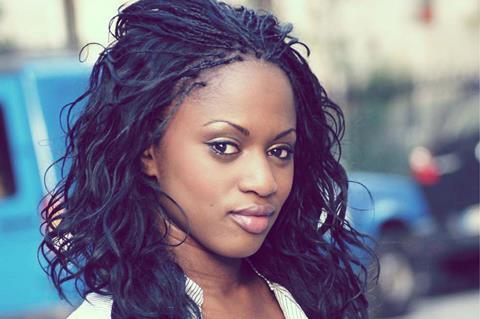 Debut feature Cuties, also produced by Zangro, revisits this milieu with the tale of an 11-year-old Senegalese girl, recently arrived in Paris, who falls in with a gang of girls obsessed with their looks who post images of themselves on social media.
Doucouré says the work grew out a desire to explore what it means to approach womanhood between two cultures as well as the wider theme of the hyper-sexualisation of youngsters in modern society.
She drew initial inspiration for the wider theme from an amateur talent show she chanced upon when her visiting her old neighbourhood in northern Paris.
"There were these girls on stage dressed in a really sexy fashion in short, transparent clothes," she recalls. "They danced in a very sexually suggestive manner. There also happened to be a number of African mothers in the audience. I was transfixed, watching with a mixture of shock and admiration. I asked myself if these young girls understood what they were doing."
Intrigued, Doucouré spent more than a year researching the topic, interviewing groups of girls she met in the street, in parks or youth associations, trying to find out what drove them to dress and dance so provocatively and then post clips publicly.
"I came to understand that an existence on social networks was extremely important for these youngsters and that often they were trying to imitate the images they saw around them, in adverts or on the social networks," she recalls. "The most important thing for them was to achieve as many 'likes' as possible."
She wrote the screenplay – which won Sundance's Global Filmmaking Award, aimed at supporting emerging independent filmmakers, in 2017 – with the support of French director Alice Winocour, whose most recent feature Proxima debuted at Toronto last year.
"I was looking for advice from directors with experience and whose work I like and cheekily decided to contact Alice," says Doucouré. "I love her. She has become a sort of big sister to me, supporting me throughout the project at every stage."
Finding Fathia
Doucouré auditioned more than 700 young girls all over France in the search for her young amateur cast, none of whom had ever done theatre before coming on set.
"We found Fathia [Youssouf Abdillahi] who plays the lead role on the very last day," she says. "A friend of her mother had mentioned the audition but she had forgotten about it and nearly didn't turn up. It was sort of a fluke we found her at the eleventh hour. I was seriously considering putting the shoot on hold because I hadn't found the right actress."
It is the third time Doucouré has worked with a young cast. She loves working with youngsters, she says, but admits it comes with a special set of challenges.
"Youngsters of this age are really unpredictable. You can't reason with them like an adult and say things like, 'You've signed a contract'," she says.
"I tried to get to know each child and adapted my way of working to each of them as individuals. I never gave them the script but rather I would tell them the story as we went along, like you tell a story to a child."
One trick she employed was getting the young actresses to identify with an animal they felt was close to the personality of their character or the emotions they were trying to convey in a scene.
"Fathia started off as kitten, then became an adult cat and then a black panther," recounts Doucouré. "It was a good technique, especially as we were not always shooting in sequence. I could say, 'Yesterday, you were a black panther, today, you're a kitten,' and it worked."
Cuties is due to be released theatrically in France by Bac Films on April 1 and has been acquired for international release by Netflix for later this year.