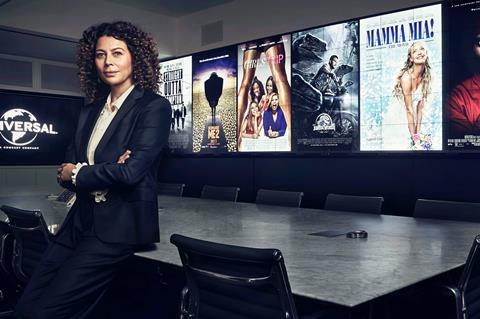 Universal Filmed Entertainment Group chairman Donna Langley has said the studio will "accommodate" Christopher Nolan's request for an exclusive theatrical window of around 100 days on his upcoming A-bomb project.
The studio won a fierce bidding war for rights to the tentpole about atom bomb creator J. Robert Oppenheimer and Langley and now-NBCUniversal CEO Jeff Shell courted the British filmmaker for years, the executive told The Information's virtual 'Women In Tech, Media And Finance Summit' Universal on Thursday (October 7).
"Chris has a precedent set at Warner Bros in the 20 years he was making movies there and he was very clear with everybody he spoke to that that was something he was looking to do," said the studio head. "Given that was a point of entry there we're happy to accommodate it."
Asked what else might have sealed the Nolan deal in Universal's favour Langley added, "Our studio is stable, we have a very strong and stable parent company in Comcast, we're a seasoned management team that's been around for a while and works very well together … and we have a best-in-class distribution and marketing team globally… We have demonstrated a real passion and excellence in eventising original movies whether its Jordan Peele with Get Out and Us [or] others."
Langley agreed with the session moderator that a long exclusive theatrical release for Nolan's Oppenheimer project – which she called "an undeniable theatrical proposition" – would be an anomaly. "Whether it's through streaming or the fact that now all the studios who are releasing theatrically are doing something slightly different, we're training the audience, the consumer, to expect movies earlier, whether it's day-and-date in some cases or 45 days after the theatrical window and I think for most films… movies cycle through their prime theatrical revenue in about two or three weeks in many cases. The analysis is there… I do think that's going to be the thing of the future."
The executive would not be drawn on whether the exclusive theatrical window was settling on 30-45 days but confirmed, "I do think it's going to be shorter. It just makes practical sense." She agreed the contraction of windows would have happened without the pandemic. "The streamers would have continued to push the industry in a direction where the theatrical-based business model was no longer viable. It was already trending that way and somehow we were going to get there."
Theatrical is part of the fabric of the studio and Langley – whose international team just delivered a stirring $120m-plus international opening weekend for No Time To Die – said it would take "a long time" to get back to pre-pandemic levels of theatrical box office.
On the subject of Peacock, Universal's streaming sibling at Comcast, Langley said day-and-date "stunting" like the imminent release of Halloween Kills would be rare. The strategy is that Universal films will play exclusively on Peacock no later than four months after theatrical release before they go to other digital platforms and eventually return to the service. "It feels like a very kinetic way to keep the great available content we have alive in the hearts and minds of [consumers]."
Noting it was early days the studio head did not say how many films she planned to make with the platform but anticipated a "fairly important role there", adding: "We're ready."