Plus: FilmBuff picks up US rights to 'We The People'; Ron Perlman and Christopher Plummer join 'Howard Lovecraft'; and more…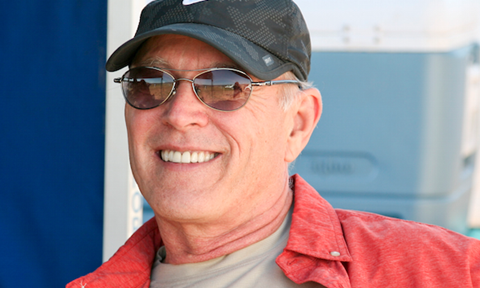 Frank Marshall will receive CinemaCon's special International Filmmaker Of The Decade Award on April 11.
The producer has made Raiders Of The Lost Ark, The Color Purple, The Sixth Sense, Jurassic World, and many others including the likely Cannes Film Festival world premiere BFG, as well as upcoming releases Jason Bourne, Sully, and Assassin's Creed. CinemaCon takes place in Las Vegas from April 11-14.
FilmBuff has licensed US rights to Tommy Reid's documentary We the People: The Market Basket Effect, a real-time chronicle of a labour dispute involving New England-based corporation Market Basket. FilmBuff plans an April 14-19 theatrical and April 22 VOD launch.
Arcana Studio and Shout! Factory have cast Ron Perlman and Christopher Plummer in the upcoming animated film Howard Lovecraft And The Frozen Kingdom. Perlman will voice the role of Shoggoth and Plummer has been cast as Dr. Herbert West. Sean Patrick O'Reilly will direct from his screenplay and also produces the graphic novel adaptation. Shout! Factory will distribute across multiple platforms in the autumn.
Adaptive Studios has wrapped production on the YA adaptation Coin Heist from its Adaptive Books label Sasha Pieterse and Alex Saxon star in the film about Philadelphia students on a class trip who tried to hack into the US Mint. The project started life as an unproduced script from the Miramax Films vault that Elisa Ludwig later adapted into a novel and was subsequently re-adapted into a screenplay by Emily Hagins. Adaptive Studios partner Marshall Lewy produces with TJ Barrack, Anne Clements, and Claire Skowronek. Marc Joubert, Perrin Chiles, and Sarah Ullman serve as executive producers.
Jerry Bruckheimer will be honoured with a month-long film festival during April at UCLA's Billy Wilder Theater in Westwood Village presented in association with Paramount Pictures and UCLA Film & Television Archive. The festival will open on April 1 with Top Gun followed by a Q&A. Screenings include Black Hawk Down, Beverly Hills Cop, American Gigolo, and Flashdance.
The International Tennis Hall of Fame and newportFILM have partnered on the first newportFILM SPORTS film festival, set to take place from April 29-May 1 in Rhode Island. The documentary Winning will open the event and the festival will include an indoor tennis clinic for children, a yoga class hosted by the Newport Yogis, and a talk by Olympian Kara Lynn Joyce.
Sarah Gertrude Shapiro, co-creator and executive producer on Lifetime TV show Unreal, will give the keynote address at the AFI Conservatory Directing Workshop for Women (DWW) on April 12 in Los Angeles. Shapiro is an alumnus of DWW 2012. Organisers will unveil the 2016 class at the event. Alumni over the years include Maya Angelou, Anne Bancroft, Ellen Burstyn, Cicely Tyson and Joanne Woodward.