Fox Innovation Lab, in partnership with RSA Films and The Virtual Reality Company, announced on Monday that its first VR endeavour will go on sale to customers.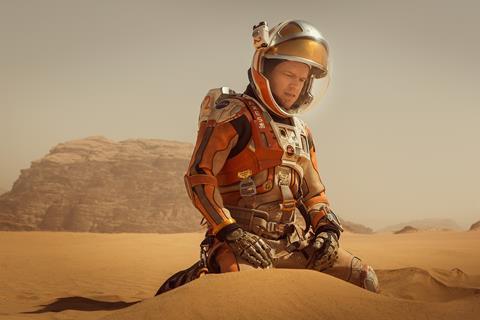 Starting on Tuesday (November 15), The Martian VR Experience, will be available for $19.99 on the PlayStation VR, which recently launched for the PlayStation 4 system, and HTC Vive via the Steam portal.
Robert Stromberg directed and Ridley Scott served as executive producer on the project, which Fox debuted at CES 2016 followed by Sundance last January. The experience allows users to assume the role of astronaut Mark Watney – portrayed by Matt Damon in blockbuster hit The Martian – as he attempts to get back to Earth.
"The Fox Innovation Lab is at the forefront of exploring virtual reality as a new storytelling medium," said Mike Dunn, president, Twentieth Century Fox Home Entertainment and Fox Innovation Lab.
"The Martian VR Experience is a testament to the opportunity for filmmakers to connect with audiences in new and deeper ways."
Jeff Spain has joined 3D cinema technology platform RealD as Chief Financial Officer from Rentech Inc, where he served in the same capacity. RealD founder and CEO Michael V. Lewis, to whom Spain will report, announced the hire on Monday.
Jason Goldberg has been promoted to Chief Creative Officer for STX's digital and new media group as well as the alternative content division for STX Entertainment. As the former head of the unscripted TV division, Goldberg secured deals on 25 TV shows with worldwide networks.
Buena Vista executives said on Monday that Ava DuVernay's A Wrinkle In Time is the title of the previous Untitled Disney Fairy Tale and will open as previously announced in 3D on April 6, 2018. Storm Reid, Oprah Winfrey, Reese Witherspoon, Zach Galifianakis, Mindy Kaling, Chris Pine and Gugu Mbatha-Raw will star. DuVernay tweeted the news.
Carmike Cinemas has unveiled a new brand strategy and identity for its Sundance Cinemas in San Francisco, West Hollywood, Seattle, Houston and Madison, Wisconsin. Cinemas at each site will embrace local communities and feature artisanal concessions, regional artists, and locally sourced food items.