Plus: Lowriders to open LA Film Festival; Alamo Drafthouse to open in Downtown Brooklyn; and more…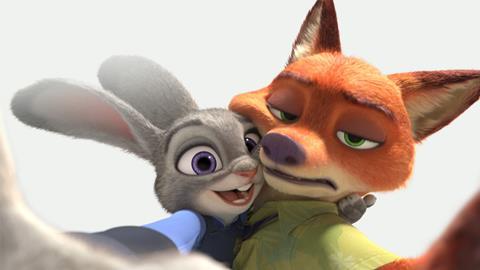 Disney's Zootopia crossed $800m worldwide on Tuesday to stand at $523m internationally and $276.7m in North America.
The family hit currently ranks as the biggest global industry release of the year-to-date, the second biggest Walt Disney Animation Studios release of all time in its original release behind Frozen, and the third biggest overall behind Frozen and The Lion King.
Zootopia is also Disney's sixth biggest animated release of all time and the industry's fifth biggest original IP animated film ever, climbing to the fourth biggest not counting re-releases.
Ricardo de Montreuil's Lowriders will open this year's LA Film Festival produced by Film Independent. Brian Grazer and Jason Blum produce the drama set in the Latino car culture and starring Eva Longoria and Demián Bichir. Ryan Coogler is this year's festival guest director, and Ava DuVernay and her Array Releasing will receive the festival's annual Spirit Of Independence Award. The festival is set to run from June 1-9.
Production on Jake Gyllenhaal starrer Stronger will commence this week in Boston, Massachusetts. Lionsgate's Summit Entertainment, Mandeville Films, Bold Films, and Nine Stories produce and the film marks the first production for Gyllenhaal's Nine Stories label. The star plays a working-class Boston man whose iconic photo from the 2013 Boston Marathon bombing captured the hearts of the world. David Gordon Green directs.
The Austin-based Alamo Drafthouse Cinema chain, famous for its no-talking, no-texting policy, is to open a theatre in Downtown Brooklyn this summer. The site, currently in its final phase of construction, will feature seven screens capable of showing 35mm and digital, and will boast in-theatre dining and a bar. The Brooklyn location will feature Alamo Drafthouse's Terror Tuesday, Video Vortex and Girlie Night series, and cater to the taste of local audiences.
Tribeca Film Institute announced on Tuesday that Claire McCarthy's Burning Season and Parisa Barani's Human Terrain have been selected to receive the 2016 TFI Sloan Filmmaker Fund, which offers $160,000 to support innovative and compelling films that offer a fresh take on science, mathematics and technology. The grantees will be honoured at a reception during the Tribeca Film festival, set to run from April 13-24. They will also receive professional guidance. The Imitation Game was a grantee in 2014.
Universal Pictures has moved its Illumination Entertainment family title Dr. Seuss' How The Grinch Stole Christmas from November 17, 2017, to November 10, 2017.
Dave Franco will receive the CinemaCon Breakthrough Performer Of The Year Award at the National Association Of Theatre Owners' annual convention in Las Vegas on April 14. CinemaCon runs from April 11-14. Franco's upcoming films include Neighbors 2: Sorority House, Now You See Me 2, and Nerve.
Wes Anderson and director Brad Silberling will be among honourees at the 3rd Location Managers Guild International Awards honourees in Glendale, southern California, on April 23.
Project Greenlight Digital Studios and Seed&Spark are partnering on a 60-day crowdfunding rally in search of the next great untold story. The companies will offer up to $20,000 in finishing funds for an independent documentary project currently in production that will follow the theme of The Untold Story. Click here for further details.