Studiocanal animation features Eddie Redmayne, Tom Hiddleston and Maisie Williams.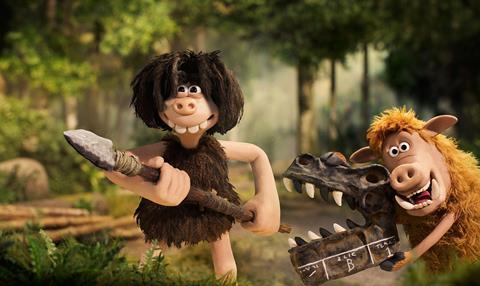 Lionsgate has acquired US distribution rights to new Aardman animated feature Early Man from Studiocanal.
The film will be released by Lionsgate's Summit Entertainment label, with Lionsgate also handling licensing and merchandising in the territory.
Early Man is directed by Nick Park (Chicken Run, Wallace And Gromit) and will be released in the US on February 16, 2018 following Studiocanal's European release.
Studiocanal will distribute in the UK, France, Germany, Australia and New Zealand.
The film stars Eddie Redmayne, Tom Hiddleston and Maisie Williams and was supported by the British Film Institute (BFI) with National Lottery funding.
Lionsgate and Studiocanal's last Aardman collaboration was Shaun The Sheep Movie.
Set at the dawn of time, Early Man tells the story of how plucky caveman Dug, along with sidekick Hognob, unites his tribe against the mighty Bronze Age in a battle to beat them at their own game.
Lionsgate co-chief operating officer and president of the motion picture group Steve Beeks said: "We truly enjoyed collaborating with [Aardman] on Shaun The Sheep Movie, which earned an Oscar nomination for best animated feature, and we look forward to bringing Nick's great new family adventure to our audiences."
Lionsgate will also distribute Studiocanal's thriller The Commuter in the U.S. The film stars Liam Neeson and is directed by Jaume Collet-Serra from a script by Byron Willinger and Philip de Blasi.