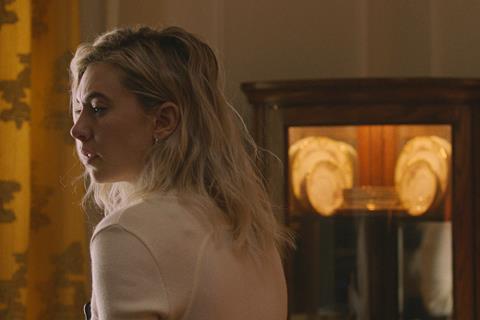 In what is understood to be a $10m deal, Netflix has swooped on worldwide rights to Pieces Of A Woman starring freshly anointed Venice Coppa Volpi best actress winner Vanessa Kirby.
The streamer is playing to its strengths at a time when cinema-going remains severely compromised by the pandemic.
This is its second major play of autumn festival season after a $19m worldwide acquisition of Halle Berry's feature directorial debut Bruised, which screens tonight as a work in progress in Toronto.
Hungarian filmmaker Kornél Mundruczó's (White God) first English-language film stars Kirby as a grieving mother who embarks on a year-long odyssey of mourning. Shia LaBeouf plays her husband and Ellen Burstyn her mother. Molly Parker also stars.
The film premiered in Venice and screened to a public audience in Toronto on Saturday morning, with a digital screening set for Wednesday (September 16).
Mundruczó's partner/screenwriter Kata Wéber wrote the screenplay.
"As a European filmmaker, I couldn't be more excited and appreciative of finding my home for this film with Netflix," said Mundruczó. "Their taste in independent cinema feels like the United Artists of the 1970s. The true champions of filmmakers and original voices for today."
Kevin Turen and Ashley Levinson produced for Little Lamb Productions with Aaron Ryder. Martin Scorsese is an executive producer alongside Sam Levinson, Stuart Manashil, Viktoria Petranyi, Jason Cloth, Richard McConnell, Suarj Maraboyina for Creative Wealth Media, Aaron Gilbert for Bron Studios, and Steven Thibault.