Vanessa Kirby's star continues to rise with an intense performance of a bereaved young mother in Kornel Mundroczo's English-language debut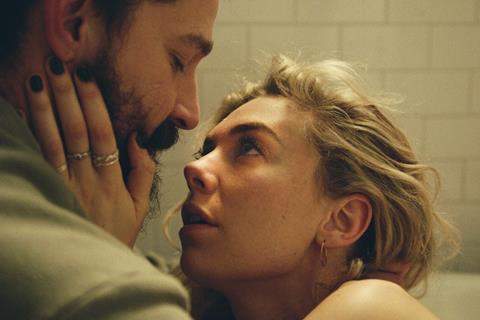 Dir. Kornel Mundruczo. Canada/Hungary. 2020. 128 mins.
As fragmented as its title suggests, Pieces of a Woman contains parts of a good film, possibly a great one. Tackling the difficult subject of how to mourn a person who hardly lived, the English-language debut of edgy Hungarian film and theatre director Kornel Mundruczo is at its core a story about a young woman called Martha, played with lambent intensity by Vanessa Kirby, who finds herself in an emotional fugue state when her baby dies shortly after birth. She drifts loose from everyday life, unable to conform to what people expect from her, yet somehow strong and determined in her fragility.
The smooth, hovering, camera eye feels like that of a spirit or angel in the apartment
As a character study written by the director's partner Kata Weber and based, it seems, on the couple's own experiences, the film burns bright. This Boston-set (but Canada-shot) winter mood piece, scored with autumnal gravitas by Howard Shore, is at times moving, delicate and trenchant. Its 24-minute opening birth sequence, shot in a single take, is a tour de force. It's these pieces of a film, combined with a next-level performance by a rising young actress (known for playing young Princess Margaret in The Crown), that may persuade many to jump on board - like Martin Scorsese, who lent his name as executive producer after viewing the film . But it's also undeniable that Pieces Of A Woman leaves all its parts in a heap on the floor for audiences to assemble as they see fit, and that will limit its prospects.
Perhaps the film's main issue is that it doesn't quite know what to do with the three conventional story strands that bubble under the surface: the disintegration of career woman Martha's loving relationship with her blue-collar partner Sean (Shia LaBeouf); her tense rapport with a rich, controlling but also confusingly old mother (Ellen Burstyn); and a court case that implicates midwife Eva (Molly Parker) in the death of Martha's baby.
Set over the course of one winter between the baby's death in September and the spring shoots of April, Pieces Of A Woman was filmed in Montreal instead of Boston, but the switch is convincing. There's something oppressive about the European revival architecture of the redbrick or granite buildings that rise from this city's snowbound streets, a sense of inauthenticity and alienation that bleeds into the mood and underlines Martha's emotional freeze. It's divided into eight dated chapters, one for each month, each introduced by a longshot of the construction of a new bridge across Boston's Charles River. This is the building project that Martha's partner, dried-out former alcoholic Sean, is working on at the start of the film before he rushes home to be present at the home birth of his daughter – an astonishing sequence, shot in a single take with the aid of a Gimbal, in which the smooth, hovering camera eye feels like that of a spirit or angel in the apartment . LaBeouf is all mumbling intensity in the role, but it's a solid performance nevertheless, let down if anything by an underscripted character.
Sarah Snook, another actress famous for a TV role (in the HBO series Succession) is effective as Martha's distant cousin, a lawyer taken on to prosecute Eva, who promises the family that "The case is already won… people hate this woman". And Pieces Of A Woman does convincingly show how women are boxed in, policed and self-policed: "You want to arrange me!" yells Martha at her mother, soon after the latter has boasted about her talent for 'staging' her friends' houses, improving the look of their rooms with little touches like cushions and flowers.
But Weber's script is so invested in the slow observation of Martha that it is ultimately forced to delegate her relationship with her mother and the prosecution of Eva, in part, to two key dramatic monologues. In the first, at the end of a fractious dinner party, Burstyn's mother tells a survival story of her own birth in the midst of the Holocaust. In the second, Martha delivers a courtroom speech that is supposed to be cathartic but in fact raises all sorts of unanswered questions. These are both fine bits of acting – but they do nothing for a story that feels undercooked, rushed towards the end.
The interference between two registers, European arthouse and Hollywood melodrama, is at its most distractingly loud and crackly in a sentimental finale which feels all the more trite for an audience that, for much of the film, had invested in a much tougher and more nuanced drama.
Production company:Little Lamb
International sales: Bron Releasing, linda.jin@bronstudios.com
Producers: Kevin Turen, Ashley Levinson, Aaron Ryder
Screenplay: Kata Weber
Production design: Sylvain Lemaitre
Editing: David Jancso
Cinematography: Benjamin Loeb
Music: Howard Shore
Cast: Vanessa Kirby, Shia LaBeouf, Molly Parker, Sarah Snook, Iliza Shlesinger, Benny Safdie, Jimmie Fails, Ellen Burstyn