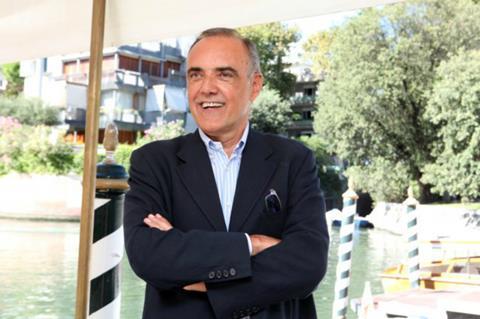 The Venice Film Festival has extended Alberto Barbera's contract as artistic director for a further four years.
The Biennale di Venezia stated today that Barbera will continue in his role as director of the cinema department from 2021 to 2024.
It marks a third consecutive term for Barbera and fourth overall, having first overseen the festival from 1999 to 2002 before returning in 2011. The 78th edition of the Venice Film Festival will run September 1-11.
This year, Barbera became the longest-serving artistic director of the festival since its launch in 1932.
Barbera was widely feted following this year's edition of the festival, which was the first major film event to take place against the backdrop of the Covid-19 pandemic.
The festival hosted around 6,000 accredited attendees (against 12,000 in a normal year), which included obligatory mask-wearing around the festival complex and during screenings; regular temperature checks at security checkpoints; extra Covid-19 tests for delegates coming from outside Europe; and the need to book screenings and industry conferences online up to 72 hours in advance.
The Golden Lion was won by Nomandland, making director Chloe Zhao the first female filmmaker to win Venice's top prize since Sofia Coppola with Somewhere in 2010.
Barbera spoke to Screen toward the end of the festival last month, during which he reflected on the event and said: "It was an historic edition. We hope it will remain a one-off and that the next edition won't take place under similar conditions."