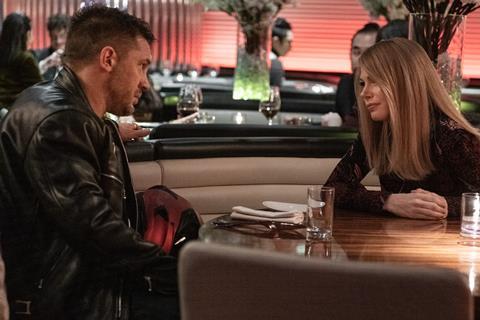 In further stirring box office news during the pandemic the exclusive theatrical release of Columbia Pictures' Venom: Let There Be Carnage has crossed $100m on its fifth day of release in North America.
Studio executives said on Wednesday (October 6) the superhero spin-off starring Tom Hardy and directed by Andy Serkis has reached $102.058m, noting that the 2018 predecessor took six days to reach the milestone in pre-pandemic times.
The sequel opened last weekend on $90.03m to deliver the biggest opening weekend of the pandemic to date, exceeding Venom's $80.26m opening weekend. The key cast includes Michelle Williams, Woody Harrelson and Naomie Harris.
Disney/Marvel Studios' Shangi-Chi And The Legend Of The Ten Rings also crossed $100m on its fifth day after it opened exclusively in cinemas on September 4.
On Friday UA Releasing will unleash the latest James Bond thriller No Time To Die in a highly anticipated exclusive theatrical launch. 007 has raced past $120m worldwide following an encouraging international launch last weekend that included more than $35m in the UK alone.
As cinemas continue to open up and audiences return under strict Covid protocols a panel of exhibition heads told CineEurope in Barcelona earlier this week that premium cinema-going experiences were critical for the ongoing recovery of the international box office.
"[I]t's the films but it's about the experience that we as exhibitors offer as well, and that premium experience is critical," said Mark Way, managing director at Odeon Cinemas.