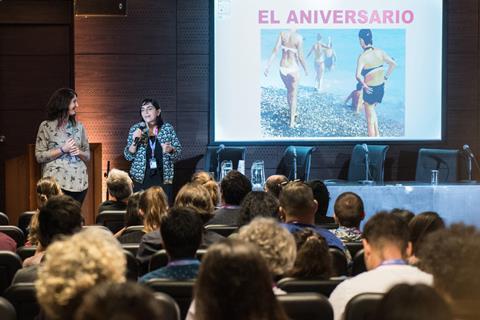 Ventana Sur, Latin America's biggest film and TV market, has pledged to return as a fully-fledged physical event later this year and is launching a new fantasy film script competition.
The 14th edition of the event, a joint venture between Cannes' Marché du Film and Argentinian film agency INCAA, is set to return to Buenos Aries in Argentina from November 28 to December 2.
It will spotlight the region's films with screenings, a works-in-progress platform and project presentations while also including screenings of European features.
Project development initiatives include horror and genre platform Blood Window, Animation!, the videogame focused Las Maquinitas and SoloSerieS.
New this year will be Tinta Oscura, a competition that offers a $25,000 prize for the best fantasy film script in the Blood Window selection.
The Proyecta co-production sidebar will launch an open call on July 4 for first or second film projects in development seeking co-production between Europe and Latin America. The joint initiative between the Marché du Film and San Sebastian Film Festival includes a prize of €5,000.
"After an online 2020 and hybrid 2021 edition, we are thrilled to be able to get back to business as usual in Buenos Aires," said Ventana Sur co-director Jerome Paillard. Industry veteran Paillard stepped down as executive director of Cannes' Marché du Film last month after 27 years.
The return to a full in-person event follows two pandemic editions that saw Ventana Sur run entirely online in 2020, which drew 2,500 participants, and as a hybrid event in 2021, which recorded 2,657 participants.
The market is now looking to return to 2019 numbers, which drew 2,600 participants in-person, including 425 non-Latin American professionals. The event gathered 425 distributors, VOD platforms, sales agents, 70 festival programmers, 80 financiers and decision makers, 1,100 producers, 900 directors and writers as well as 359 films and projects.
Recent features to come through Ventana Sur include Mariano Biasin's Sublime and Flávia Neves' Fogaréu, which both screened at the Berlinale in February, and Manuela Martelli's 1976, which premiered in Cannes' Directors' Fortnight last month. Other titles include Nuno Beato's Os Demónios Do Meu and Alberto Vázquez' Unicorn Wars, which both played in competition at this year's Annecy International Animation Film Festival.