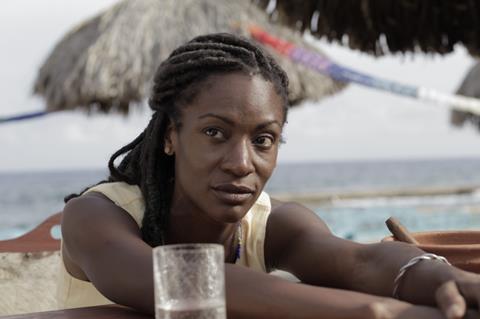 Vicenta B. has scooped the biggest cash industry prize at San Sebastian's industry awards this year, winning the Egeda Platino Industy Award for the Best Work In Progress (WIP) Latin American film.
The feature, directed by Cuban filmmaker Carlos Lechuga (who participated in Horizontes Latinos at San Sebastian in 2016), follows the story of a Havana woman with the ability to see into the future who finds herself in a crisis when her only son decides to leave the country.
The prize carries a €30,000 award to the majority producer towards completing the film and a screening at Cannes Marché 2022. To be eligible films in the WIP categories must be in post-production.
Scroll down for full list of winners
The main WIP Latam Industry Award went to Laura Baumeister's Daughter Of Rage, a co-production between Nicaragua, Mexico, the Netherlands, Germany, France and Norway. The lucrative prize includes a guarantee of distribution in Spain and post-production support from a several service companies.

It marks the first feature of Nicaraguan writer-director Baumeister and centres on a young girl who lives at a vast rubbish dump with her mother and a herd of dogs. When the girl accidentally poisons a litter of puppies, her mother takes the desperate decision to leave her at a recycling factory where she is forced to work with other children. The film previously won the best project award at San Sebastian's Europe-Latin America co-production forum in 2019.
The WIP Europa Industry Award prize went Carbon, a darkly comedic feature debut from Moldovan filmmaker Ion Bors set in the late 1990s during the Transnistria War. The winner receives €10,000 for the majority producer and a screening at Cannes Marché 2022.
Francisco Marise's Camionero won the Europe-Latin America Co-production Forum Best Project Award and Juan Andrés Arango's Where The River Begins took the Dale! Award. Both participated in the Forum where Argentinian projects were out in force.
San Sebastian industry awards 2021
WIP Latam Industry Award
Daughter Of Rage, dir. Laura Baumeister (Nic-Mex-Neth-Ger-Fra-Nor)
Egeda Platino Industy Award for best WIP Latam
Vicenta B., dir. Carlos Lechuga (Cuba-Col-Nor-Fra)
WIP Europa Industry Award
Carbon, dir. Ion Borș (Mol-Rom)
WIP Europa Award
Carbon, dir. Ion Borș (Mol-Rom)
Europe-Latin America Co-production Forum Best Project Award
Camionero, dir. Francisco Marise (Sp-Arg)
Dale! Award (Development Latin America-Europe)
Where The River Begins, dir. Juan Andrés Arango (Col-Can-Fra)
Artekino International Prize
Alemania, dir. Maria Zanetti (Arg-Ger)
Irusoin Post-production Award
The Wind's Cave, dir. Eduardo Crespo (Arg).