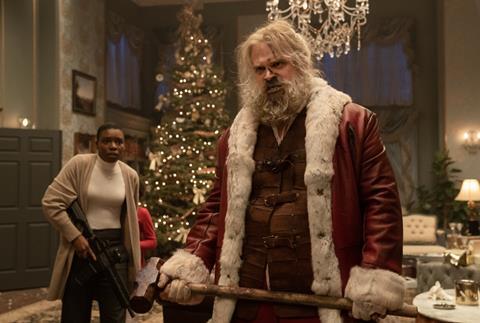 World box office December 2-4
| Rank | Film (distributor) | 3-day (world) | Cume (world) | 3-day (int'l) | Cume (int'l) | Territories |
| --- | --- | --- | --- | --- | --- | --- |
| 1. | Black Panther: Wakanda Forever (Disney) | $37.8m | $733m | $20.2m | $339.3m | 51 |
| 2. | Violent Night (Universal) | $20.4m | $20.4m | $7.1m | $7.1m | 73 |
| 3. | Strange World (Disney) | $10.3m | $42.3m | $5.4m | $16.8m | 44 |
| 4. | One Piece Film Red (various) | $9m | $198.5m | $9m | $185.1m | 29 |
| 5. | The Menu (Disney) | $8.6m | $47.2m | $5m | $22.5m | 51 |
| 6. | Suzume (various) | $5.5m | $54.3m | $5.5m | $55.3m | 1 |
| 7. | The Owl (various) | $4.8m | $10.9m | $4.8m | $10.9m | 1 |
| 8. | Black Adam (Warner Bros) | $4.4m | $384.2m | $2.7m | $219m | 75 |
| 9. | Devotion (Sony) | $3.3m | $14.6m | 0.5m | $0.8m | 26 |
| 10. | Roald Dahl's Matilda The Musical (Netflix) | $3.3m | $9.7m | $3.3m | $9.7m | 1 |
Credit: Comscore, click top right to expand. All figures are estimates.
'Violent Night' makes solid start in quiet session
UPDATE: With less than three weeks to go until Christmas Day, and more than a week before Avatar: The Way Of Water arrives to provide one almighty distraction for cinemagoers, Violent Night has made a promising start for distributor Universal Pictures.
The festive action comedy debuted in second place at the North America box office with a confirmed $13.5m for the December 2-4 weekend, also adding $7.3m in 72 international markets for a $20.8m global bow. The film's setting on Christmas Eve means that Universal needed to hit its main international targets in a timely manner – and the imminent threat of Disney's Avatar sequel is also presumably a factor in the rapid rollout.
With a production budget reported at $20m, Violent Night should prove profitable by the end of its lifetime, factoring in revenue shares with cinemas and marketing costs, but also future ancillary revenue streams.
UK/Ireland led the international pack with an estimated $1m for the weekend. That estimate, published on Sunday, takes account of anticipated weaker takings on Sunday evening due to competition from the England-Senegal World Cup football match in the last 16 stage.
Mexico produced $608,000 while France, which also participated in a last 16 World Cup game on Sunday against Poland, delivered a confirmed $577,000 debut.
Germany (a confirmed $472,000) and Australia ($446,000) - who were also in action at the World Cup against Argentina on Saturday – round out the top five international territories on the title. German box office was not impacted to such an extent by the World Cup following the national side's shock exit in the first round last week.
Norwegian filmmaker Tommy Wirkola (Dead Snow) directs the crime comedy about a gang of mercenaries who target a wealthy family on Christmas Eve – and face off against unlikely adversary Santa Claus (David Harbour).
Universal says Violent Night has already hit 94% of its international footprint. Key market Japan is set for February 3.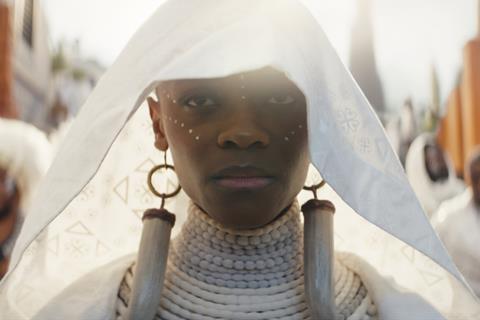 'Black Panther: Wakanda Forever' stays top in fourth weekend of play
Disney's Black Panther: Wakanda Forever has topped the North America, international and global box office for a fourth weekend in a row, this time adding an estimated $37.8m for the latest session.
Totals so far are $393.7m in North America, $339.3m for international, combining for $733.0m worldwide.
Wakanda Forever predictably fell hard (an estimated 61%) in North America from the previous weekend, which had been boosted by the Thanksgiving holiday leading into it. For international, the drop was a gentler 37%.
In the global ranking for 2022, Wakanda Forever currently holds seventh place, and is closing in on sixth-placed Thor: Love And Thunder ($760.9m). The Black Panther sequel should pass the fellow Marvel title this week, and also overtake The Batman ($770.8m). But the film will need to find a lot more gas in the tank to rise any higher – Minions: The Rise Of Gru ranks fourth for the year with $939.2m. (Above it are Top Gun: Maverick, Doctor Strange In The Multiverse Of Madness andJurassic World Dominion.)
Wakanda Forever has so far reached only 54% of the $1.35bn lifetime total achieved by the original Black Panther. That film was boosted by $124m for China and Russia, where the sequel is not set to play.
'One Piece Film Red' boosted by China opening
Japanese anime One Piece Film Red has returned to the global top 10 chart – in fourth place – thanks to the film's arrival in China.
The Toei Animation release grossed $7.9m at the weekend in China and $10.5m including previews, according to data gatherer Artisan Gateway. Comscore reports an estimated $9.0m for the film globally at the weekend, and a $198.5m total.
One Piece Film Red is directed by Gorô Taniguchi (Code Geass film series), and is the 15th film in the One Piece series, based on the manga by Eiichiro Oda. The film has grossed $133.2m in Japan.
In China, One Piece Film Red ruled a quiet weekend, which saw a market total of $13.1m, according to Artisan Gateway. So far, 2022 is running a hefty 36% behind the box office pace of 2021 for the equivalent period – hampered by continuing pandemic restrictions that are currently causing social unrest.