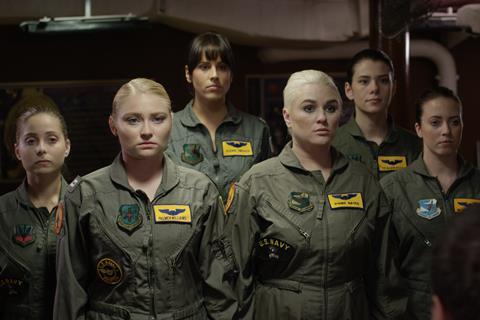 Vision Films has acquired aerial action feature Called to Duty from production company Cinemaddict Films.
Vision will handle international sales and release the film day-and-date theatrically and on transactional VOD platforms in the US and Canada in July.
Called To Duty centres on a squadron of female Navy air show pilots – played by Susannah Jane, Cabrina Collesides, Brandi Mosko, Whitney Star, Erica Seelig, Marisa Pangaro, Toni Ann Gisondi and Rosanne Sorrentino - sent into battle alongside a male fighter pilot, played by Arnold Schwarzenegger's son Joseph Baena.
Ashley Gibson directs and the producers are Henry Penzi and Sonny Goldfin.
Vision CEO and managing director Lise Romanoff commented: "Vision has found tremendous success with the action-adventure genre and audiences will love this thrill ride! It is a win-win that this film is not only about strong female protagonists but also has a female director. The first ever female pilots highlighted this year at the Super Bowl only reinforces the importance of showcasing all members of our military and their vital role in our society."
Goldfin added: "We are really excited about catapulting this project into the sky with Vision Films. I've always had an admiration for fighter jets and this project has been an exceptional experience from start to finish. We are so glad to see it finally get wings and take flight."