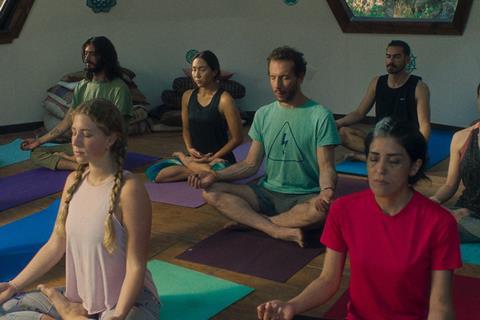 Ryan Kampe's Visit Films has picked up worldwide sales excluding Argentina, Chile, Portugal and Germany to Argentine director Martín Rejtman's The Practice (La Practica) ahead of its world premiere at San Sebastian (September 22-30).
The dark comedy will subsequently receive its North American premiere in the 61st New York Film Festival's (NYFF) Main Slate on September 30.
It stars Esteban Bigliardi from J.A. Bayona's Spanish Oscar submission and San Sebastian entry Society Of The Snow and NYFF selection The Delinquents as a recently separated yoga instructor with a knee injury who must deal with the search for a new home, a meddling mother, and a flirtatious student.
Visit said the film blends comedy, drama with a sense of "floating through space" as the characters deal with changes both significant and insignificant. The Practice also stars Camila Hirane (Fugitives).
From Un Puma, Quijote Films, Rosa Filmes, Pandora Film Produktion, and África in association with Arte/ZDF, The Practice was produced by Joaquim Sapinho, Victoria Marotta, Christoph Friedel, Florencia Larrea, Marta Alves, Jerónimo Quevedo, Giancarlo Nasi, Claudia Steffen, Fernando Bascuñán and Rejtman served as producers.
The feature marks the first in nearly a decade for Rejtman, a leading figure in the New Argentine Cinema movement whose films include Rapado (1992), Silvia Prieto (1999), The Magic Gloves (2003), documentary Copacabana (2006), and his most recent feature, the 2014 Locarno Competition selection Two Shots Fired. He also directed the short film Shakti which screened at San Sebastian in 2019.
Rejtman's oeuvre has been the subject of retrospectives at BAFICI, Pacific Film Archive, Festival de Valdivia, Harvard Film Archive, Jeonju International Film Festival, Lincoln Center, Tabakalera, Cinemateca Portuguesa, and MUBI.
Rejtman said, "I am thrilled to be working with Visit Films to bring The Practice to audiences worldwide. I started studying film in New York in the 80s and have been practicing yoga since the mid-90s. The Practice is the result of the combination of both journeys."
Visit's Kampe added, "We have long admired Martín Rejtman's work and unique voice. This film feels so relatable and accessible that audiences around the world should find themselves in its mirror. We hope that The Practice can be the film that takes Rejtman to the next level of commercial success."