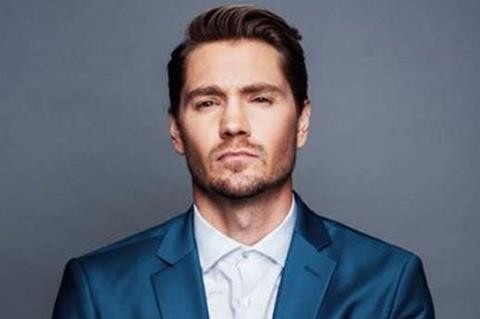 Voltage Pictures has secured worldwide rights to the thriller American Boogeyman, based on the untold story of the intrepid detective and rookie FBI profiler who pursued serial killer Ted Bundy.
Daniel Farrands (The Haunting Of Sharon Tate, Halloween: The Curse Of Michael Myers) wrote and directs the project, which is currently in post and stars Chad Michael Murray, known for his roles in Warner Bros.' House Of Wax, Lionsgate's The Haunting In Connecticut 2: Ghosts Of Georgia, and the CW's Riverdale, as Bundy.
Rounding out the key cast are Genre actress Lin Shaye (Elise Rainier from the Insidious franchise, Sony's The Grudge, Showtime's Penny Dreadful: City Of Angels) and Holland Roden (Sony's upcoming Escape Room 2, MTV's Teen Wolf).
Fathom Events will release American Boogeyman theatrically across the US on August 16. Voltage and Dark Star Pictures will handle downstream rights.
Set in a gritty and decadent 1970s America, American Boogeyman follows the elusive and charming killer and the manhunt that brought him to justice involving the detective and the FBI rookie who coined the phrase "serial killer".
American Boogeyman producers are Lucas Jarach (The Haunting Of Sharon Tate, The Amityville Murders), Daniel Davila (Dead Mine, Knife Fight) and Farrands (The Haunting In Connecticut). Alan Pao (The November Man) and Luke Daniels (Under The Silver Lake, No Man's Land) serve as executive producers.
Lucas Jarach negotiated the deal on behalf of the producers with Deckter on behalf of Voltage Pictures.
"Ted Bundy is such a fascinatedly divisive character and is the true personification of evil," said Voltage Pictures president and COO Jonathan Deckter.
"Murray is so talented and expertly captures Bundy's charm and seductive nature, traits that the notorious killer exploited to win the trust of his victims as well as society. It's fantastic to continue working with the very gifted Lucas and Dan on this feature and bring engaging narratives to the screen."
Fathom secured US theatrical distribution rights to Voltage Pictures' recently announced companion piece 'Monster Prequel' American Boogeywoman about serial killer Aileen Wuornos, which is also directed by Farrands and stars Peyton List, Tobin Bell, Lydia Hearst, Nick Vallelonga, Swen Temmel, Meadow Williams, and Andrew Biernat.
Fathom will release that film in select US theatres on September 20. Voltage and Dark Star Pictures handle downstream rights.
"We are excited to be partnering with Voltage Pictures to bring their compelling stories to audiences across the country," said Fathom Events CEO Ray Nutt. "True crime aficionados will want to see these films."