UPDATE: Chinese giant confirms pact, which it says will "help strengthen Wanda's power to influence the global film industry."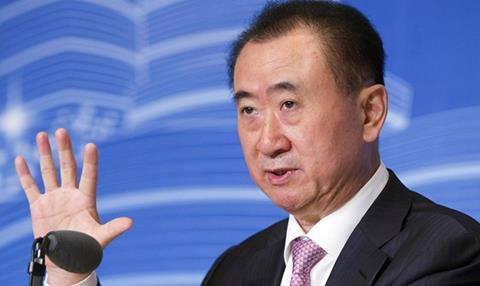 UPDATE [FRI 23]: Wanda has confirmed its pact with Sony, saying it would both invest in Sony productions and strive to highlight China in those films.
"The alliance will help strengthen Wanda's power to influence the global film industry, and set a good precedent for Chinese film producers in their international investment," Wanda said in a statement it released Friday.
Jack Gao, Wanda's head of international investment and operations, said Wanda would continue to seek alliances with other content companies and closer relationships with leading media firms, according to the Associated Press release.
The statement did not name the films involved.
Wednesday 21:
According to reports Dalian Wanda Group and Sony Pictures are far advanced in talks to strike a marketing partnership that may lead to investment in select titles.
The development marks the latest bold play by Dalian Wanda chairman and China's richest man Wang Jianlin, who has already established a firm foothold in Hollywood and other international film institutions.
If consummated, the deal, first reported on Wednesday by Deadline Hollywood, would see Wanda lend its promotional might to the Chinese release of certain studio films.
It is understood that could include summer 2017 tentpole Spider-Man: Homecoming.
Furthermore, it is believed Wanda might invest in certain films on the Sony slate, giving rise to what would be a powerful co-financing ally.
Wanda helped promote Paramount's release in China of Transformers: Age Of Extinction and Teenage Mutant Ninja Turtles: Out Of The Shadows.
The Chinese real estate and entertainment titan has been investing heavily in the global film business.
Earlier this year it snapped up Legendary Entertainment for $3.5bn and used its AMC Entertainment to buy European exhibitor Odeon & UCI Cinemas for $1.2bn.
Wanda acquired AMC several years ago and that theatre chain becomes the largest on the planet following the Odeon & UCI Cinemas acquisition.
Wanda also owns Australian exhibitor Hoyts and its Wanda Cinema Line is investing with Imax in a slew of new venues in China.
As previously reported, Jianlin has set his sights on two $1bn-plus deals involving US film companies before the end of the year and had targeted Paramount.
The Paramount deal is now off the shelf according to the Viacom board, which said on Wednesday as it emerged that Viacom interim CEO Tom Dooley would leave on November 15 that it had halted the process of searching for a minority investor in the studio for the time being.
Sony Pictures was unavailable for comment.