JULY 17 UPDATE: Baby Driver now Edgar Wright's biggest film worldwide.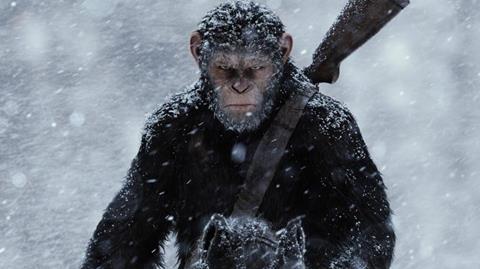 Fox's War For The Planet Of The Apes dominated Spider-Man: Homecoming on its debut session to open top on a confirmed $56.3m.
Sony's webslinger crossed $200m in its second session, while Amazon Studios' The Big Sick surged three places through Lionsgate in its fourth session after expanding from 326 sites to 2,597. Broad Green's horror Wish Upon flopped in seventh on $5.5m from 2,250 sites.
War For The Planet Of The Apes debuted in 4,022 theatres and while gross revenues were the lowest in the eight-year trilogy reboot in real terms, $56.3m allied to strong reviews bodes well for the summer run and could set the film up to be one of the more successful franchise sequels of a summer where, inevitably, several are falling by the wayside.
Chernin Entertainment produced the action thriller and Matt Reeves directed, with Andy Serkis reprising his role as ape leader Caesar. Woody Harrelson and Steve Zahn also star.
Dawn Of The Planet of The Apes opened in July 2014 on $72.6m and finished on $208.5m, while trilogy pilot Rise of The Planet Of The Apes debuted in August 2011 on $54.8m, which adjusts for inflation to $59.3m. Its final North American tally was $176.8m.
Spider-Man: Homecoming ranks second after $44.2m boosted the running total through Sony to $207.3m after two sessions. Universal-Illumination's Despicable Me 3 ranks third on $188.4m after three weekends.
Baby Driver in fourth added $8.7m to reach $73.1m after three sessions through TriStar and overtook Hot Fuzz on $80.6m to become Edgar Wright's biggest worldwide release. The Big Sick added $7.5m to reach $15.9m after four weekends through Lionsgate, climbing three slots to number five.
Lady Macbeth starring Florence Pugh opened through Roadside Attractions at number 32 on $64,537 from five.
Box office for the top 12 amounted to $158.1m, down 21.2% on last weekend and up 1.7% on the comparable session in 2016 when Illumination's The Secret Life Of Pets held on to top spot in its second weekend.
This week's wide releases are: Christopher Nolan's Dunkirk through Warner Bros; Luc Besson's Valerian And The City Of A Thousand Planets through STX Entertainment; and Universal comedy Girls Night.
Confirmed top 10 North America July 14-16, 2017
Film (Dist) / Conf wkd gross / Conf total to date
1 (-) War For The Planet Of The Apes (Fox) Fox International $56.3m –
2 (1) Spider-Man: Homecoming (Sony) Sony Pictures Releasing International $44.2m $207.3m
3 (2) Despicable Me 3 (Universal) Universal Pictures International $19.4m $188.4m
4 (3) Baby Driver (Sony) Sony Pictures Releasing International $8.7m $73.1m
5 (8) The Big Sick (Amazon-Lionsgate) $7.5m $15.9m
6 (4) Wonder Woman (Warner Bros) Warner Bros Pictures International $6.8m $380.6m
7 (-) Wish Upon (Broad Green) $5.5m –
8 (6) Cars 3 (Buena Vista) Walt Disney Studios Motion Pictures International $3.1m $139.9m
9 (5) Transformers: The Last Knight (Paramount) Paramount Pictures International $2.8m $124.9m
10 (7) The House (Warner Bros) Warner Bros Pictures International $1.7m $23.1m