Warcraft sets record-breaking debut, while X-Men nears $100m.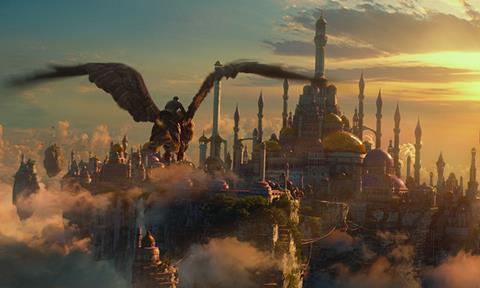 Warcraft stomped into China with a record-breaking opening in the week of Jun 6-12, making a staggering $156.17m from its first five days. It was the fastest imported film ever to crack RMB1 billion (approximately $151.6m), narrowly beating Furious 7, currently the highest grossing imported film ever, as well as the best ever IMAX weekend with $20m from 292 screens.
While Legendary-Universal's video game adaptation stumbles in the US, its explosive success in China could be partially attributed to its strong Chinese backing. Legendary Entertainment, the film's production company, was purchased earlier this year by Chinese conglomerate Dalian Wanda Group, which owns China's largest cinema circuit. The film is also co-financed by influential Chinese partners Tencent, China Film Group and Huayi Brothers.
Warcraft's $156.17m five-day opening made it the third-biggest imported film this year so far (behind Zootopia and Captain America: Civil War). Last week's total box office, almost 74% of which derived from Warcraft, saw a week-on-week increase of 87%.
Fox's X-Men: Apocalypse dropped to second place with $39.58m. With $98.11m after ten days, it has outperformed another recent superhero film, Batman vs Superman: Dawn Of Justice and is on track to beat its predecessor X-Men: Days Of Future Past's $116.49m.
In third and fourth place were Disney's Alice Through The Looking Glass with $6.59m for $55.81m after 17 days and Sony's The Angry Birds Movie was in fourth with $5.46m for $77.01m after 24 days.
New local animation Toys War opened in fifth place with $1m from its first four days. It was followed by holdovers Finding Mr Right: Book Of Love with $0.43m for $119.09m after 45 days; The Death Game with $0.33m for $0.66m after ten days; Song Of The Phoenix with $0.24m for $12.96m after 38 days; and The Divergent Series: Allegiant with $0.24m for $18.45m after 24 days.
New local romance drama Our Graduation rounded out the weekly chart with $0.22m from its three-day opening weekend.
This week's new releases include Finding Dory, Warrior vs Dragon and The Curse Of Chopsticks, all due to roll out on Jun 17.