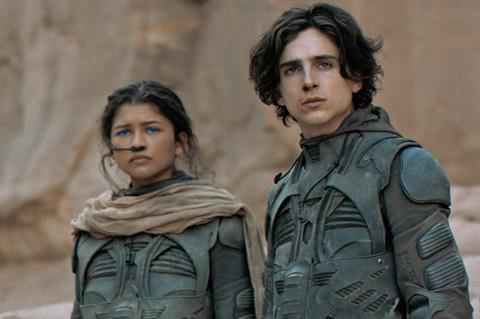 Talking to investors and media on the day of the AT&T third quarter earnings report issued on Thursday (October 21) WarnerMedia executives hinted at a Dune sequel and revealed the first day-and-date global release on HBO Max of an international original.
WarnerMedia Studios and Networks chair and CEO Ann Sarnoff told reporters on the US trades that while there was no breaking news coming from her about a sequel to Denis Villeneuve's sci-fi epic Dune – which opens in North America tomorrow (October 22) and has amassed more than $117m from its early international run – she intimated there would be a second instalment.
Similarly there could be another Sopranos spin-off feature. Prequel The Many Saints Of Newark flopped at the box office recently and also launched on HBO Max per WarnerMedia's day-and-date strategy for all Warner Bros releases this year. The company has not revealed numbers but Sarnoff said it is among the top 10 most watched series on the platform and executives are happy with its performance.
WarnerMedia executives have said starting in 2022 Warner Bros will release its slate exclusively in cinemas for 45 days before they go to HBO Max and will also produce 10 films exclusively for HBO Max to drive subscriber growth.
Talking to investors on Thursday WarnerMedia CEO Jason Kilar said, "What we have learned is that motion pictures continue to matter, we believe they are going to matter for decades to come, and we are proudly investing in them." After executives sparked controversy with the bombshell day-and-date strategy announcement late last year they went round Hollywood striking make-good deals.
Kilar added that the ad-supported version of HBO Max will not carry Dune and December release The Matrix Resurrections. He deflected questions from press about reports he will step down next year and said he was occupied with growing the business.
AT&T reported HBO and HBO Max combined for 69.4m subscribers in the third quarter after a net gain of two million after around the same number dropped off after HBO moved off Amazon Prime Video channels. AT&T CEO John Stankey said on the earnings call that the regulatory approval process for the $43bn WarnerMedia-Discovery merger was proceeding as excepted.
WarnerMedia told reporters that as HBO Max rolls out internationally executives were moving ahead with international originals. The first to launch day-and-date in the US and around the world will be Danish series Kamikaze on November 14. The eight-part show produced by Profile Pictures is based on Erlend Loe's novel Muleum and centres on an 18-year-old girl who loses her wealthy family in a plane crash and embarks on a trip around the world. Marie Reuther stars.
HBO Max launched in Latin America in June and opens in Scandinavia later this month. It is scheduled to debut across most of Europe in 2022 but not UK, Germany and Italy due to a partnership with Sky.