Independent exhibitors gathered to discuss the issues facing the sector in 2019 at the UK Exhibitors Forum, hosted by Screen International and the Independent Cinema Office.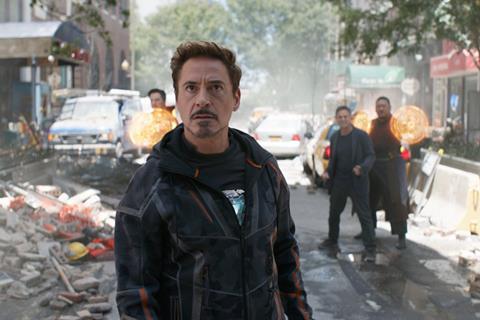 The UK independent exhibition and distribution sectors came under the spotlight at the second Screen International and Independent Cinema Office (ICO) UK Exhibitors Forum, held at the Everyman King's Cross in London on November 29.
Lucy Jones, Comscore's executive director, UK & Ireland, set the scene by detailing how the past five years have been good for exhibitors but more challenging for independent distributors. The overall number of screens in the UK has risen from 4,415 in 2014 to 4,814 in 2017, with the number of cinemas up from 811 to 875.
In 2014, 68.5% of UK box-office receipts went to studio films. That figure has risen to 84.3% in 2018 to date. More than half the UK's box office has come from just 18 films this year, with 6% coming from Avengers: Infinity War.
"The studio releases absorb a huge amount of box office, which doesn't leave a huge amount left for anyone else," said Jones, who predicted a merged Fox/Disney will account for around 35% of total box office in the UK.
During an 'In Conversation' talk, Hamish Moseley, head of distribution at leading indie outfit Altitude Film Distribution, outlined how the company is evolving to meet the challenges of a fast-changing market. Originally a sales and production company before launching a distribution arm in 2013, Altitude's strategy is to retain more rights to its projects.
"We are trying to get to the point where we put almost everything we sell and produce through the distribution company," said Moseley.
Rather than seeing a barrier between distribution and exhibition, Moseley said he believed both sectors shared the same objectives. He also resisted the term "majors" since it implies other players are "minors". "We're not minors," he said, "we're independent, versatile businesses. All here are acutely aware of the full value chain, so let's talk to each other more, be less inflexible and more opportunistic."
Independent Cinema Office head of cinemas David Sin chaired a panel session addressing how exhibitors can make a profit while remaining independent. For Tyrone Walker-Hebborn, director of Genesis Cinema in London's East End, the now-imminent end of the controversial virtual print fee (VPF) will be a major boost. "Digital was supposed to make access to independent films easier, but with VPF there was resistance from distributors and studios to pay that money," he said. "There have been more costs for distributors and they tried to push these on to us."
Razor-thin profit margins and competition were the key concerns for Caroline Hennigan, programme director at Nottingham's Broadway Cinema. "The costs are going up but we've only got a set amount of screens," she said. "Running our own café-bar has been crucial, rather than franchising it, because we make a lot more money now."
Hoss Ghonouie, head of marketing for Everyman Media Group, was confident that customers value independent cinemas. "There's a hell of a lot of people who want to come out to cinema more," he said. "Especially grown-up audiences. If the venue is good and service is good, they will come more often. It doesn't take much to get that 2% rise in admissions."
Arthouse energy
In reference to London's West End, Comscore's Jones said a challenge for indie distributors was a "West End skew". West End cinemas have delivered 6.7% of total UK box office this year (Greater London accounts for 19.1%), but this rises to 9% for independent films (those not released by the US majors). "Hopefully, bringing cinema back into city centres will bring that arthouse energy across all the UK," she said.
A final panel, titled 'The future of cinema ticketing and pricing', debated how sensitive pricing can help grow younger audiences. Emanuele de Plano, EMEA general manager for ticketing service Veezi, drew the audience's attention to France, which had encouraged a ¤4 ($4.50) ticket price for under-14s, achieved virtual blanket adoption across the sector, seen admissions spike by 10% and almost no erosion in average ticket price as most minors are accompanied by one or more adults.
Mark Cosgrove, cinema curator at Bristol's Watershed cinema, reported on his own venue's success with a £5 ($6.40) ticket for anyone under 25 — regardless of day of the week or show time.
Asked what they thought was the biggest challenge facing independent cinemas in the next 10 years, both de Plano and Egidio Rodrigues, account director of creative agency Powster, talked about the need to keep up with better-resourced competition — whether that be multiplexes or streaming giants — in the ability to interpret and use data.
David Kapur, co-CEO of OurScreen, the platform that allows users to request and programme films in their local cinema, highlighted the role that cinema can play in the social issue of isolation. "There are not that many amazing places where people get together in the real world," he said.